Keto Pumpkin Spice Latte: A Fall Favorite Reimagined
As the leaves turn golden and the air gets crisp, nothing says autumn like the rich, spiced flavors of a Pumpkin Spice Latte. But if you're on a keto diet, you might feel like you have to miss out on this seasonal treat. Not anymore! Our Keto Pumpkin Spice Latte is here to satisfy those fall cravings without kicking you out of ketosis.
This recipe is a harmonious blend of cozy spices, creamy textures, and the deep, robust flavor of coffee—without the sugar overload of traditional coffee shop versions. Whether you're wrapping up in a blanket or need a warm-up after a brisk walk, this low-carb, high-fat latte is the perfect companion for your keto lifestyle this fall.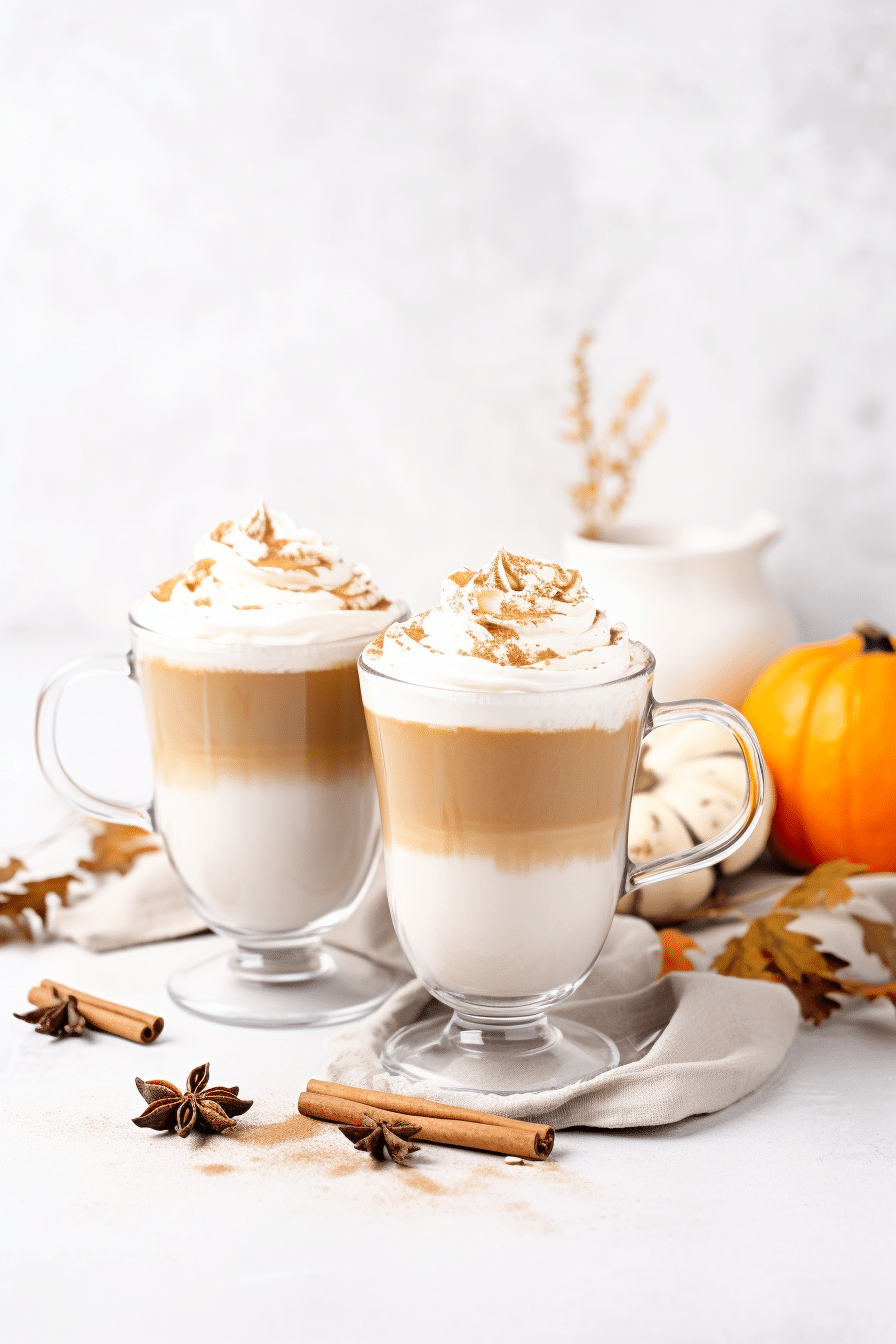 The Story Behind This Keto Delight
Every sip of this Keto Pumpkin Spice Latte is a journey through the flavors of fall, crafted to fit within the keto lifestyle. This isn't just a drink; it's a celebration of seasonal change, a testament to the creativity that the keto diet inspires, and a nod to the beloved coffeehouse classic.
As a dedicated keto dieter, I found myself longing for the comfort of a Pumpkin Spice Latte every autumn. But the traditional versions are laden with sugars and carbs. That's why I took it upon myself to create a version that would not only satisfy that craving but also align with my dietary choices. This recipe is the culmination of that effort, perfected over time to bring you the richness and warmth of a classic latte without the guilt.
What makes this Keto Pumpkin Spice Latte so special is its attention to the balance of flavors and textures. The combination of unsweetened almond milk and heavy whipping cream provides a luscious base that carries the subtle sweetness of erythritol and the organic, earthy notes of pumpkin puree. The pumpkin pie spice, a quintessential blend of autumnal spices, infuses the latte with its signature warmth, while the espresso or strong brewed coffee gives it a robust depth.
This latte is not just a drink; it's a comforting ritual that brings a touch of indulgence to your keto journey. It's proof that you can enjoy the festive flavors of the season while staying true to your health goals. So, let's raise a mug to the joys of fall and to a recipe that lets us have our latte and drink it too!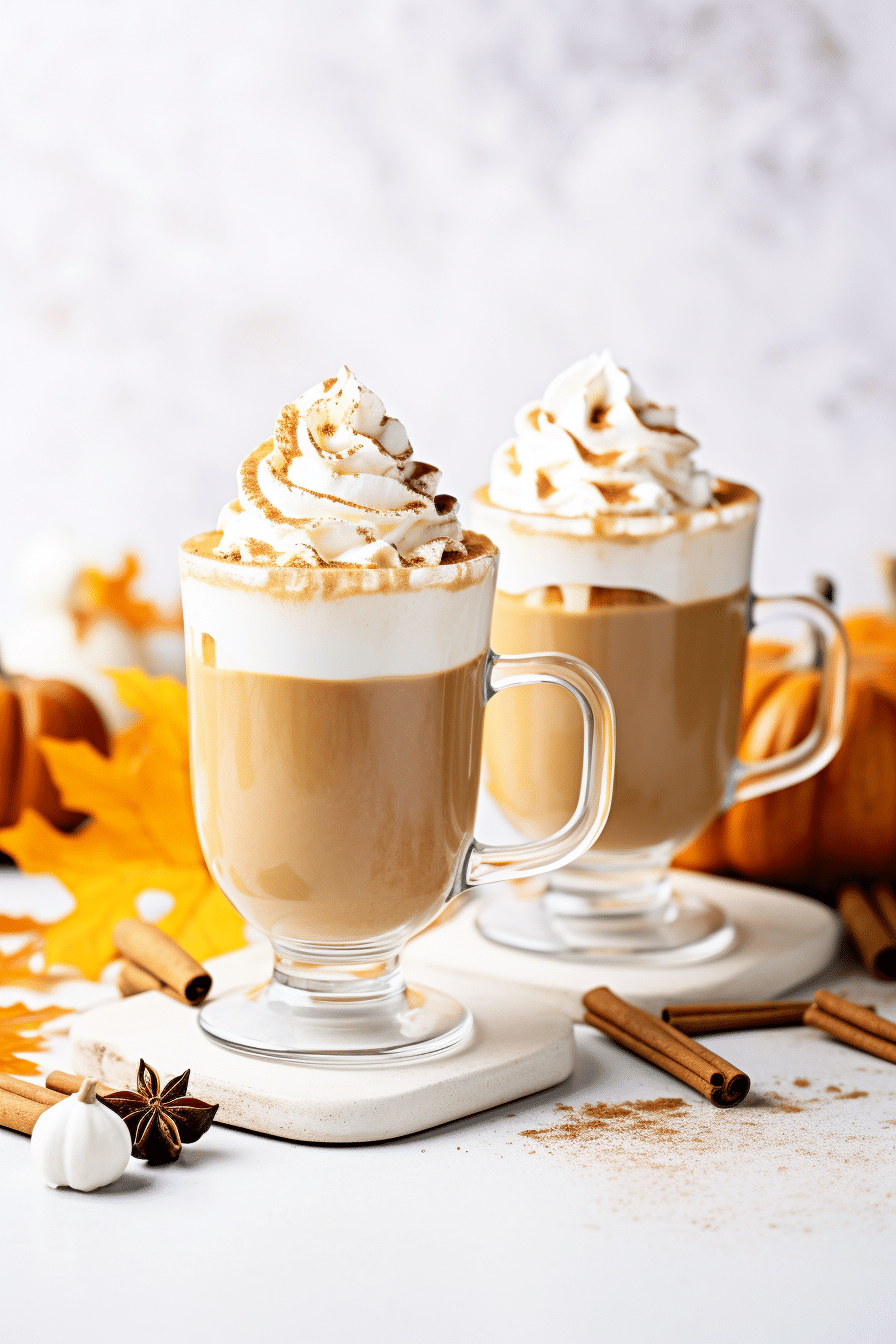 Mastering the Keto Pumpkin Spice Latte
Creating the perfect Keto Pumpkin Spice Latte is an art that blends simplicity with a touch of culinary craft. Let's walk through the method step by step, infusing it with tips and tricks to ensure your latte is nothing short of sublime.
Gently heat your milk mixture. The key here is to whisk continuously and avoid boiling. You're looking for a gentle steam, which indicates the right temperature for infusing flavors without scalding the milk.
As for the coffee, whether you're pulling shots of espresso or brewing a strong cup, the quality of your coffee will significantly impact the final taste. Opt for a rich, full-bodied coffee that can stand up to the bold flavors of pumpkin and spice.
Finally, when combining the coffee and milk mixture, do so with a steady hand. You want to preserve the beautiful layers before they blend together in each sip. If you're topping with whipped cream, remember that a little goes a long way. A light sprinkle of cinnamon not only adds to the flavor but also creates an aesthetically pleasing finish.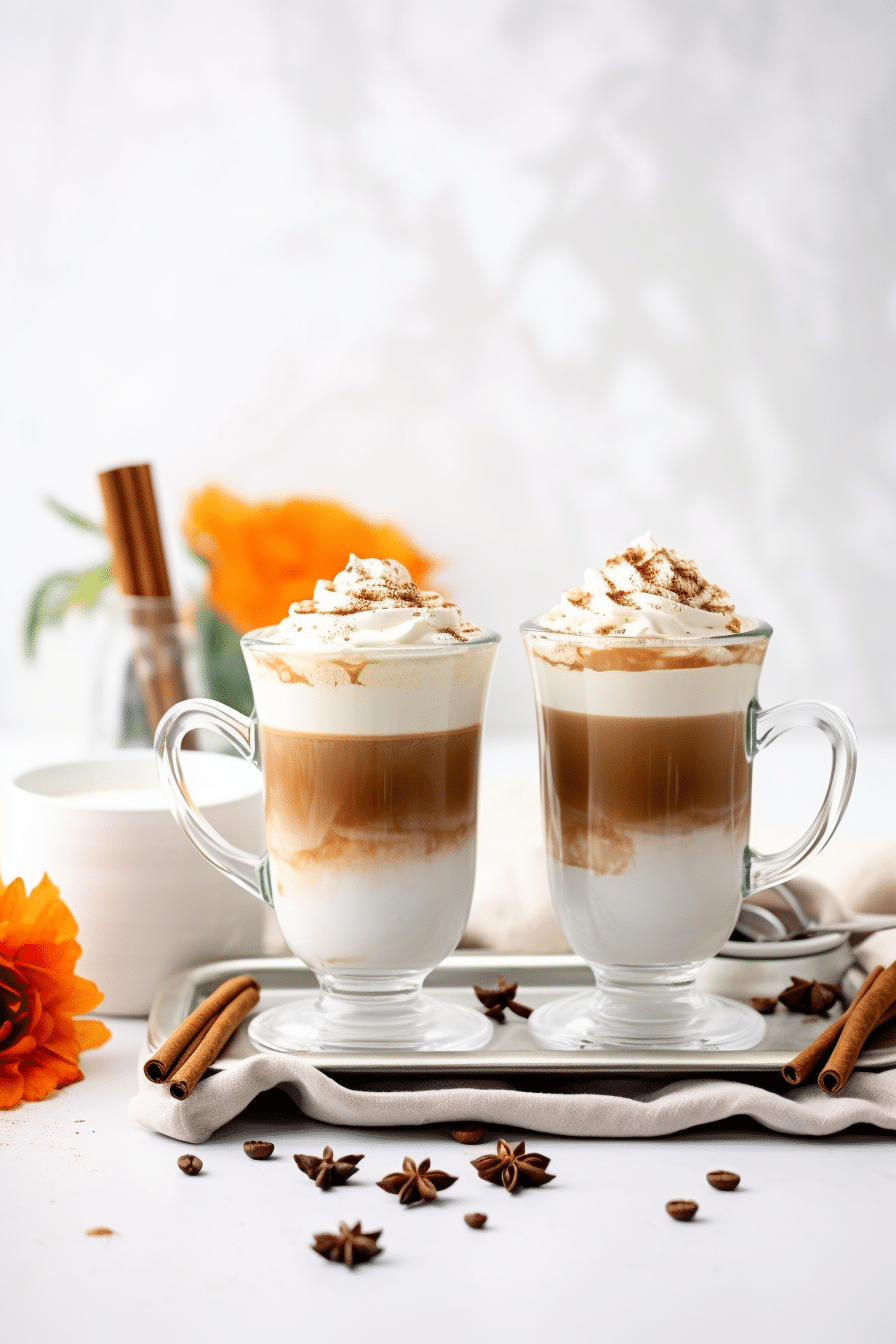 Customizing Your Keto Pumpkin Spice Latte
Mocha Pumpkin Spice Latte
For chocolate lovers, add a tablespoon of unsweetened cocoa powder to the milk mixture. The chocolate will complement the pumpkin and spices, creating a mocha twist that's both indulgent and keto-friendly.
Dairy-Free Pumpkin Spice Latte
If you're avoiding dairy, substitute the heavy whipping cream with the same amount of coconut cream. This not only makes your latte dairy-free but also adds a hint of tropical flavor that pairs beautifully with the pumpkin.
Iced Pumpkin Spice Latte
On warmer fall days, enjoy your latte over ice. Prepare the milk mixture as instructed, let it cool, then pour it over ice and add the coffee. This refreshing version is just as delicious and keto-compliant as its hot counterpart.
Keto-Friendly Ingredient Swaps
Adapting recipes to fit your dietary needs or pantry availability is a cornerstone of home cooking. Here are some keto-friendly substitutions that work wonderfully in this Pumpkin Spice Latte recipe.
If almond milk isn't your preference, you can replace it with another low-carb milk alternative like coconut milk or cashew milk. Each will add a unique flavor to your latte.
When it comes to sweeteners, erythritol is a great keto option, but you can also use other sugar alternatives like stevia or monk fruit sweetener. Be mindful of the conversion rates, as sweetness levels can vary.
And if espresso isn't available, a strong brew of your favorite keto-friendly coffee will still give you a delicious result. The goal is to maintain the robust coffee flavor that balances the creamy, spiced milk mixture.
Frequently Asked Questions
Can I make this latte without an espresso machine?
Yes! You can use strong brewed coffee as a substitute. Just ensure it's bold enough to stand up to the other flavors.
Is pumpkin puree keto-friendly?
In moderation, yes. Pumpkin puree is relatively low in carbs and can be included in a keto diet. Just ensure it's unsweetened and not pumpkin pie filling.
How can I store leftover pumpkin spice milk mixture?
You can store it in the refrigerator for up to three days. Reheat gently before using to prevent separation.
Can I use fresh pumpkin instead of canned puree?
Absolutely. If using fresh pumpkin, ensure it's cooked and pureed smoothly before measuring and adding to the recipe.
What can I do if my latte isn't sweet enough?
Adjust the sweetness by adding a little more erythritol or your preferred keto sweetener to taste. Remember, it's easier to add more sweetener than to correct an overly sweet latte.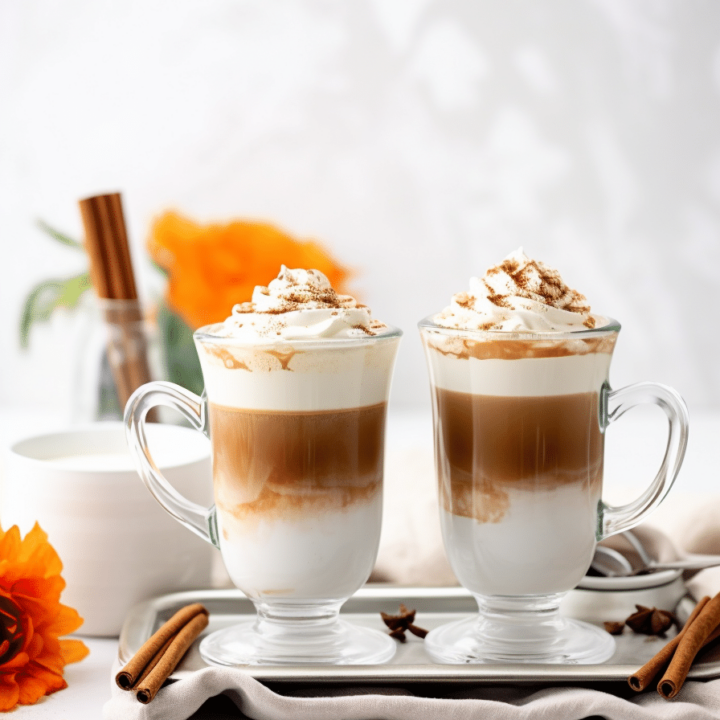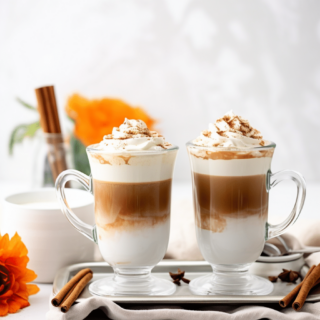 The Perfect Keto Pumpkin Spice Latte
This Keto Pumpkin Spice Latte is the perfect cozy beverage for autumn mornings or chilly afternoons. It's rich in flavor, creamy in texture, and packed with warming spices, without the added sugars and carbs that come with the traditional version. It's a comforting, guilt-free indulgence that you can enjoy while staying on track with your keto diet.
Ingredients
- 1 cup of unsweetened almond milk

240 ml

- 1/4 cup of heavy whipping cream

60 ml

- 2 tablespoons of pumpkin puree

30 grams

- 1 tablespoon of granulated erythritol

14 grams

- 1/4 teaspoon of pumpkin pie spice

- 1/2 teaspoon of pure vanilla extract

- 2 shots of espresso or 1/2 cup of strong brewed coffee

120 ml

- Whipped cream

keto-friendly, optional for topping

- A pinch of ground cinnamon

optional for garnish
Instructions
Begin by gathering all your ingredients and measuring them out. This will make the process smoother and quicker.

In a small saucepan over medium heat, combine the almond milk, heavy whipping cream, pumpkin puree, and granulated erythritol. Whisk the mixture continuously until it's well combined and begins to steam. Do not let it boil.

Add the pumpkin pie spice and vanilla extract to the saucepan, whisking thoroughly to distribute the flavors evenly.

Prepare the espresso or strong brewed coffee while the milk mixture is heating.

Once the milk mixture is steaming and fully combined, remove it from the heat.

Pour the prepared espresso or coffee into two mugs, dividing it equally.

Carefully pour the hot pumpkin spice milk mixture over the coffee in each mug.

If desired, top each mug with a dollop of keto-friendly whipped cream and a sprinkle of ground cinnamon for an extra touch of indulgence.

Serve immediately and enjoy your homemade Keto Pumpkin Spice Latte.
Notes
- You can adjust the sweetness by increasing or decreasing the amount of erythritol to suit your taste.
- For a dairy-free version, replace the heavy whipping cream with coconut cream.
- If you don't have pumpkin pie spice, you can make your own by mixing ground cinnamon, nutmeg, ginger, and cloves.
- Be sure to use pumpkin puree and not pumpkin pie filling, which has added sugars and is not keto-friendly.
- To save time in the morning, you can mix the milk, cream, pumpkin puree, sweetener, and spices the night before and store it in the refrigerator. Simply heat and combine with coffee when ready to serve.
Nutrition
Serving:
1
g
Calories:
145
kcal
Carbohydrates:
4
g
Protein:
2
g
Fat:
13
g
Saturated Fat:
7
g
Polyunsaturated Fat:
5
g
Cholesterol:
36
mg
Sodium:
114
mg
Fiber:
1
g
Sugar:
2
g