Keto Pecan Pie Bars: A Decadent Low-Carb Delight
Imagine biting into a rich, nutty treat that satisfies your deepest dessert cravings without any guilt. That's exactly what you get with these Keto Pecan Pie Bars. Combining a buttery crust with a gooey pecan topping, these bars are a low-carb twist on a classic favorite. They're perfect for anyone following a ketogenic diet or anyone looking to reduce their sugar intake. With only 2g net carbs per serving, these indulgent bars will keep you firmly in ketosis while delighting your taste buds. Whether you're hosting a gathering, need a snack, or just want a dessert that fits into your keto lifestyle, these pecan pie bars are the answer.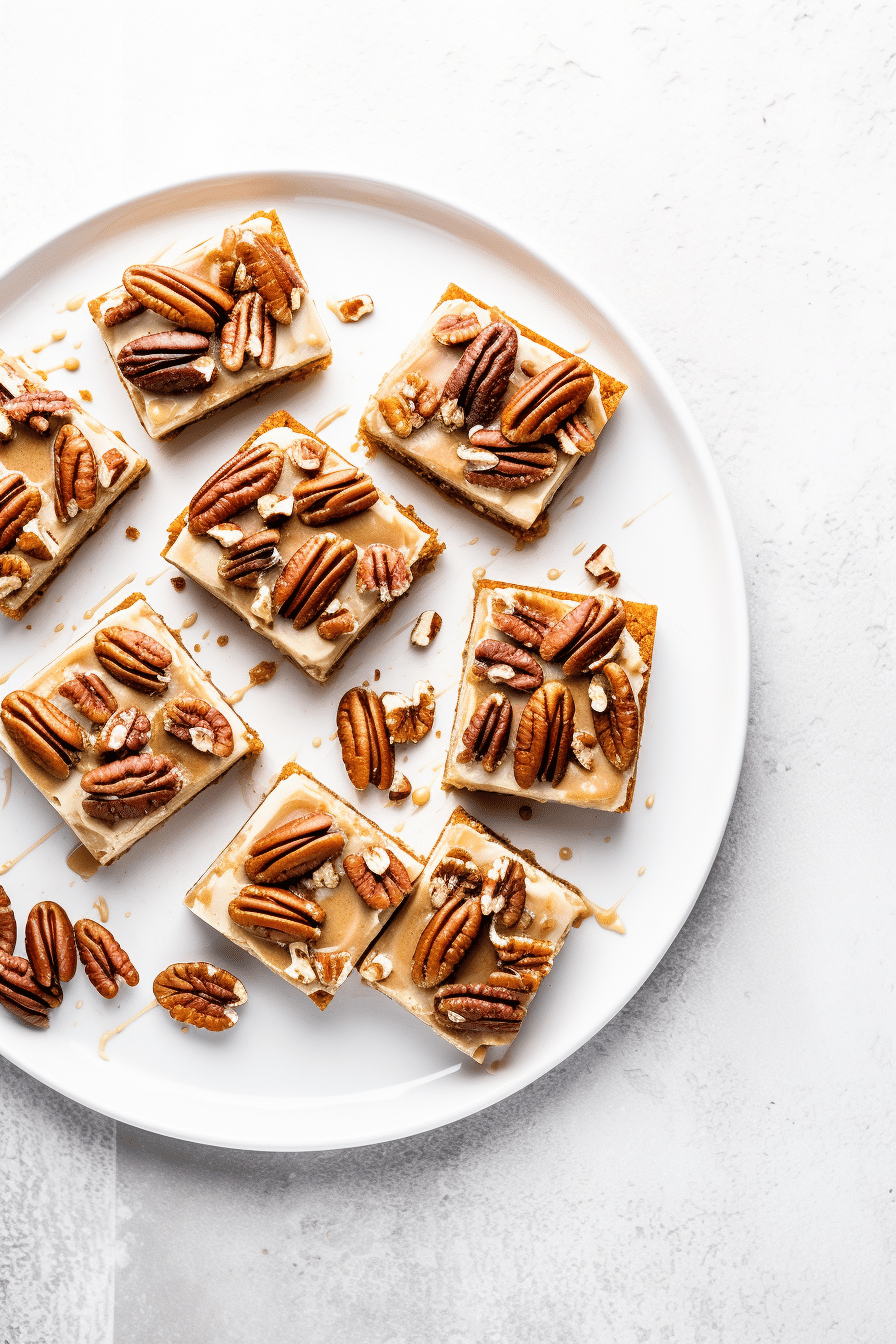 The Story Behind the Bars
As a passionate keto dieter, I'm always on the hunt for recipes that offer both the comfort of traditional baking and the compliance of a strict low-carb regimen. These Keto Pecan Pie Bars emerged from a desire to enjoy the decadence of pecan pie without the sugar rush and carb overload. Pecans are naturally rich in healthy fats and low in carbohydrates, making them an excellent ingredient for keto-friendly treats. The inspiration for this recipe came from a family favorite, but with a twist: I've replaced the usual high-carb elements with keto-approved alternatives, ensuring that the end result is as delicious as it is nutritious.
Why is this a good keto recipe? For starters, the combination of almond and coconut flours creates a crust that is low in carbs but high in fiber and healthy fats, which are essential on a keto diet. The filling, sweetened with erythritol, provides the perfect balance of sweetness without spiking your blood sugar levels. The use of heavy cream adds a luxurious creaminess to the filling, while the pecans contribute both texture and a dose of protein. This recipe is a testament to the fact that following a ketogenic diet doesn't mean sacrificing the joy of delicious desserts.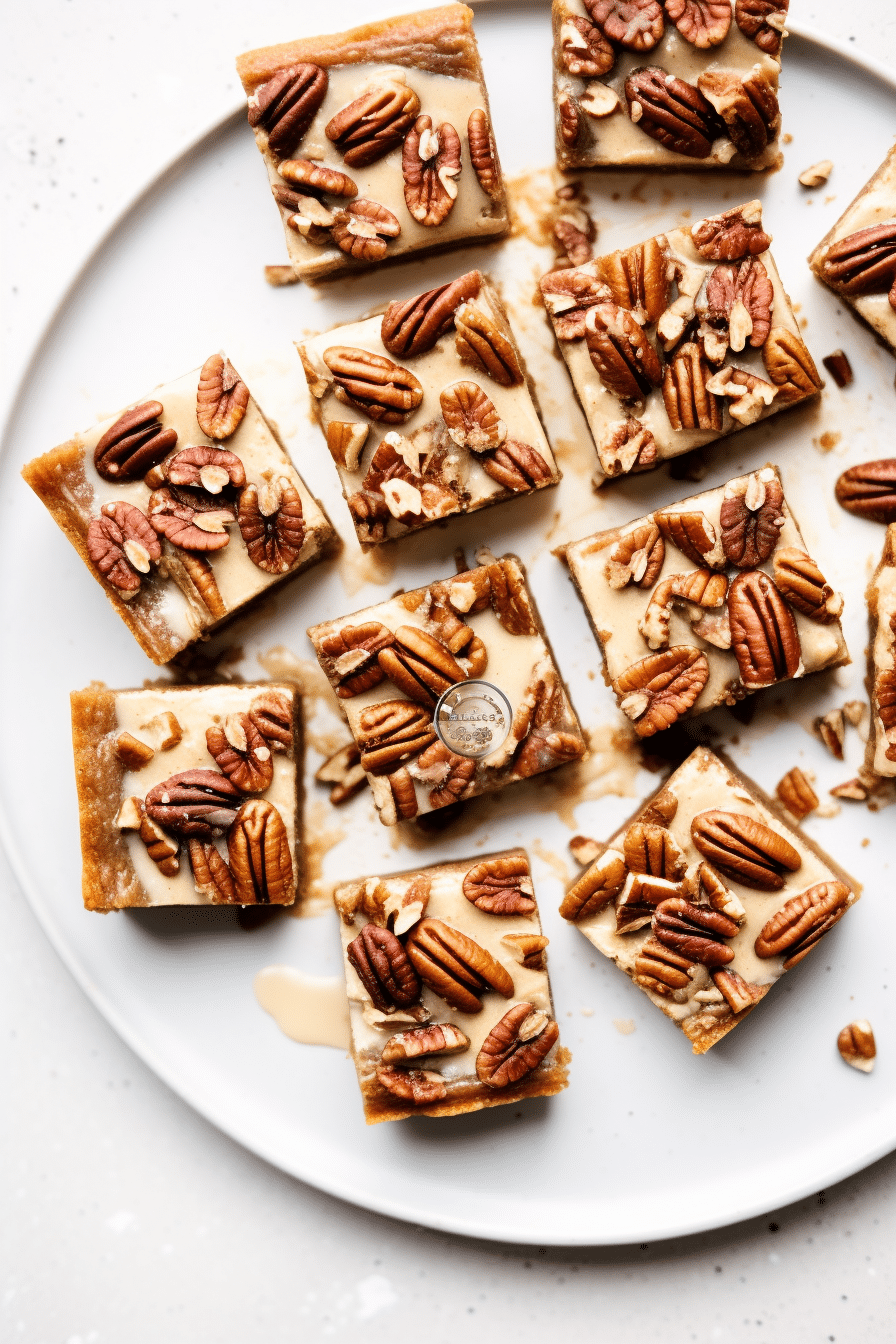 Perfecting the Keto Pecan Pie Bars
Creating the perfect Keto Pecan Pie Bar is all about precision and patience. The process begins with preheating your oven to the right temperature. This ensures that the crust bakes evenly and achieves a golden hue. When preparing the crust, it's crucial to mix the ingredients until they reach a dough-like consistency. This will result in a crust that's sturdy enough to support the rich filling.
Once the crust is lightly golden, it's time to let it cool. A cool crust will prevent the filling from seeping into it and creating a soggy bottom. The filling should be whisked until smooth, with no lumps remaining. This step is vital for achieving that signature caramel-like texture. Incorporating the chopped pecans evenly ensures every bite is loaded with nutty goodness.
When returning the bars to the oven, watch for the filling to set and for the top to turn a rich golden brown. This indicates that the bars are cooked through without being overdone. Letting the bars cool completely is perhaps the most challenging step—resist the temptation to cut into them too soon! Cooling allows the bars to set properly, making them easier to slice and serve.
Remember, the key to these keto delights is in the details. Ensuring your ingredients are at room temperature can make a significant difference in the texture of the bars. Also, be mindful of the type of sweetener and butter you use; quality ingredients will yield a superior flavor.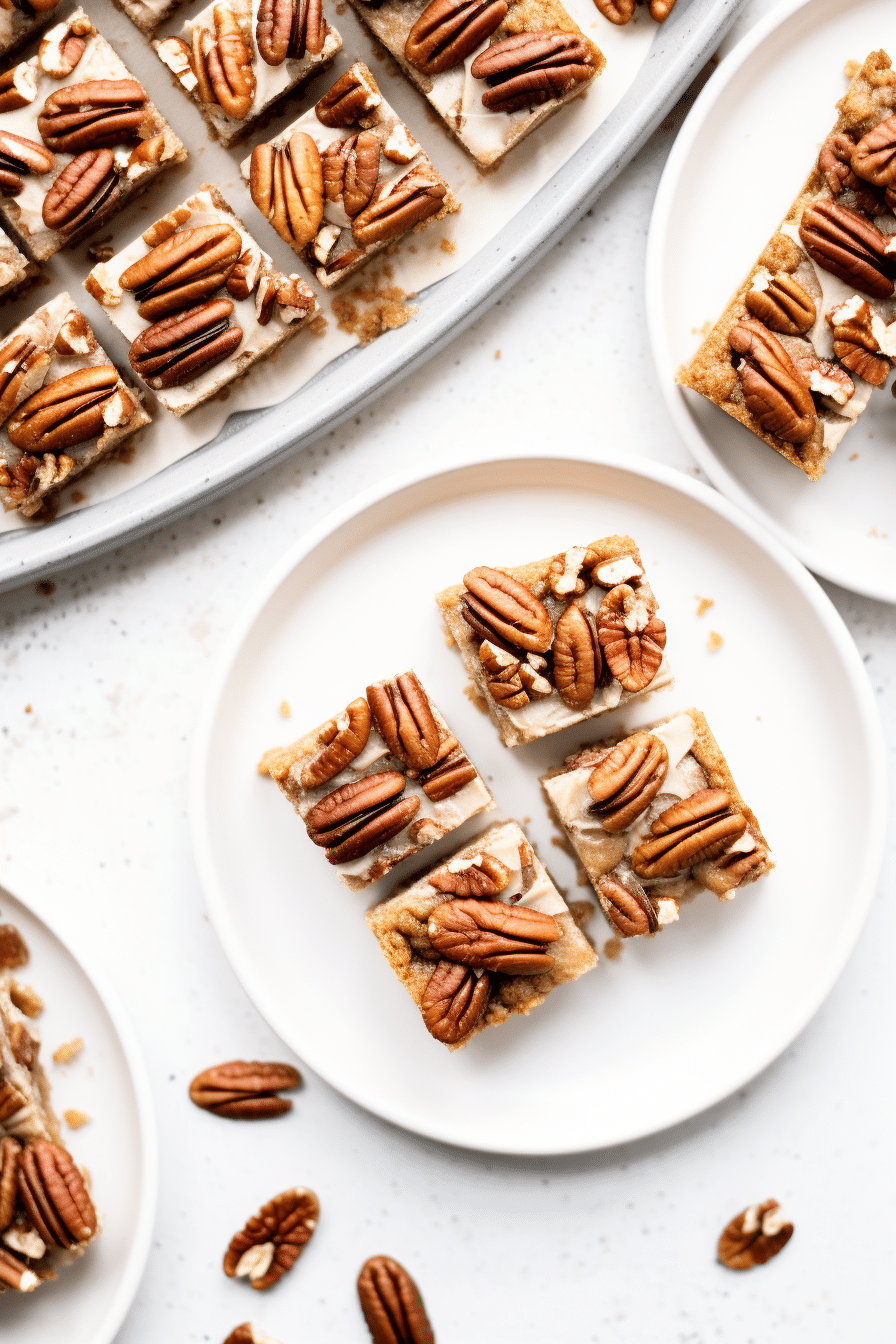 Variations to Spice Up Your Bars
Chocolate Chip Pecan Pie Bars
Add a handful of sugar-free chocolate chips to the filling before baking to create a chocolatey twist on the classic pecan pie bars. The chocolate chips melt into the filling, creating a rich and indulgent experience.
Pumpkin Spice Pecan Pie Bars
For a fall-inspired variant, mix in a teaspoon of pumpkin spice into the filling. The warm spices will complement the nuttiness of the pecans and add a seasonal touch to the dessert.
Maple-Flavored Pecan Pie Bars
Use a sugar-free maple-flavored syrup instead of vanilla extract in the filling to infuse the bars with a subtle maple undertone, perfect for those who enjoy a hint of woodsy sweetness.
Ingredient Substitutions for Dietary Needs
While the original recipe is designed to be keto-friendly, some may have dietary restrictions or preferences that call for substitutions. Here are three common swaps:
For those who are dairy-free, replace the butter in both the crust and the filling with coconut oil. This will maintain the richness while making the recipe suitable for a dairy-free diet.
If you're allergic to almonds, use sunflower seed flour in place of almond flour. It's a great nut-free alternative that still keeps the recipe low in carbs.
For individuals who prefer a different sweetener, monk fruit sweetener can be used in place of erythritol. It's a natural, low-glycemic sweetener that works well in keto baking.
Frequently Asked Questions
Can I use a different type of nut for this recipe?
Yes, while pecans are traditional, walnuts or almonds can be used as a substitute if desired.
Is it possible to make these bars dairy-free?
Absolutely, you can use coconut oil instead of butter to make these bars dairy-free.
How do I store these pecan pie bars?
Store them in an airtight container in the refrigerator for up to one week, or freeze for extended shelf life.
Can I use a different sweetener?
Yes, you can use other sugar-free sweeteners like stevia or monk fruit extract, but you may need to adjust the quantity to taste.
Are these bars gluten-free?
Yes, as long as you ensure that all the ingredients used are gluten-free, these bars are safe for those with gluten intolerance.

## Keto Pecan Pie Bars

A scrumptious, nutty treat with a buttery crust and a caramel-like pecan topping, these Keto Pecan Pie Bars are your low-carb solution to indulgent snacking. Perfect for satisfying your sweet tooth without kicking you out of ketosis.

**Servings:** 12 bars

**Prep Time:** 20 minutes

**Cook Time:** 45 minutes

**Cuisine:** American

**Category:** Dessert

**Ingredients:**
***For the Crust:***
– 1 1/2 cups almond flour (150g)
– 1/4 cup coconut flour (30g)
– 1/4 cup granulated erythritol (48g)
– 1/2 cup unsalted butter, melted (113g)
– 1 tsp vanilla extract (5ml)
***For the Filling:***
– 1 1/2 cups chopped pecans (150g)
– 3 large eggs
– 1 cup powdered erythritol (144g)
– 1/2 cup unsalted butter, melted (113g)
– 2 tsp vanilla extract (10ml)
– 1/3 cup heavy cream (80ml)
– 1/4 tsp salt

**Method:**
1. Preheat your oven to 350°F (175°C) and line a 9×9 inch (23×23 cm) baking pan with parchment paper, allowing some overhang for easy removal.
2. Begin with the crust: In a medium bowl, combine almond flour, coconut flour, granulated erythritol, melted butter, and vanilla extract. Mix until you form a cohesive dough.
3. Press the dough evenly into the bottom of the prepared baking pan. Bake for 10-12 minutes or until slightly golden. Remove from oven and let cool while you prepare the filling.
4. For the filling: In a large bowl, whisk together the eggs, powdered erythritol, melted butter, vanilla extract, heavy cream, and salt until well combined.
5. Stir in the chopped pecans and pour the mixture over the cooled crust, spreading evenly.
6. Return to the oven and bake for 30-35 minutes, or until the filling is set and the top is a rich golden brown.
7. Let the bars cool completely in the pan on a wire rack. Once cooled, use the parchment paper overhang to lift out the bars and slice into 12 equal portions.

**Calories:** 285 per bar

**Carbohydrates:** 8g per bar

**Net Carbs:** 2g per bar

**Fiber:** 6g per bar

**Fat:** 27g per bar

**Protein:** 5g per bar

**Equipment Used:**
– 9×9 inch (23×23 cm) baking pan
– Parchment paper
– Medium bowl
– Large bowl
– Whisk
– Wire rack

**Other Notes:**
– Ensure all ingredients are at room temperature to achieve the best texture.
– Store leftover bars in an airtight container in the refrigerator for up to one week or freeze for a longer shelf life.
– The sweetness can be adjusted to taste, and other sugar-free sweeteners like stevia or monk fruit extract can be used as a substitute for erythritol.