Keto Coquito Recipe: A Festive Low-Carb Indulgence
As the holiday season approaches, the quest for festive treats that align with our dietary choices becomes paramount. Enter the Keto Coquito, a luscious, low-carb concoction that brings the joyous flavors of a Puerto Rican classic to your keto-friendly table.
This delightful beverage is a perfect addition to your holiday spread, offering all the creamy, spiced goodness of traditional coquito without the carb overload. Whether you're hosting a party or simply craving a cozy night in, this Keto Coquito Recipe promises to be the highlight of your winter celebrations.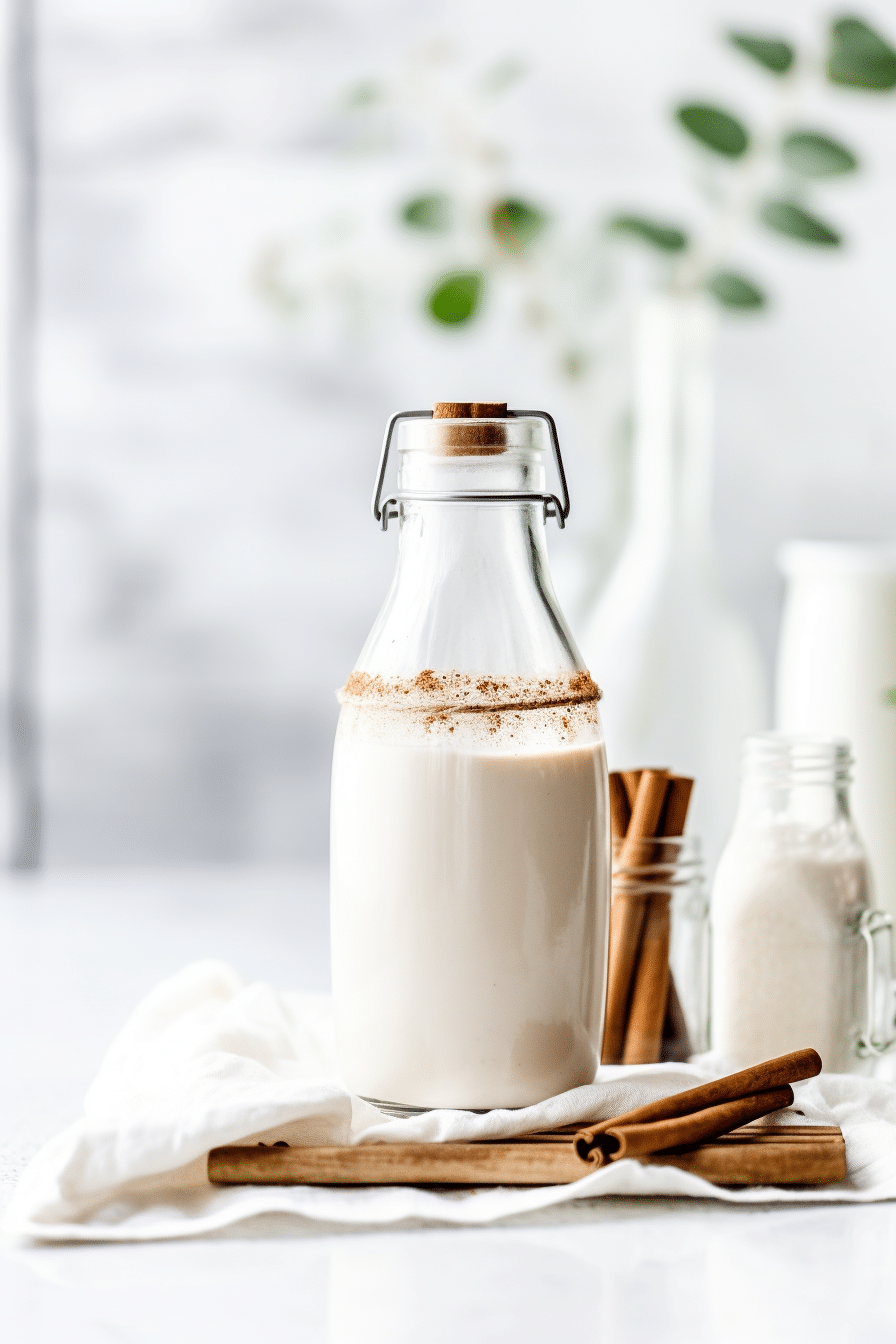 The Essence of Keto Coquito
Originating from the heart of Puerto Rico, coquito is a cherished holiday drink that brings warmth and joy to the festive season. This Keto Coquito version preserves the essence of the traditional recipe while embracing the principles of a ketogenic diet. It's a beautiful blend of coconut milk, coconut cream, and almond milk, sweetened with erythritol and spiced to perfection, making it a sublime treat for those on a low-carb journey.
The ketogenic diet emphasizes high-fat, low-carbohydrate foods to encourage the body to enter a state of ketosis, where it burns fat for fuel. This Keto Coquito fits the bill perfectly, with its high fat content and minimal carbs. It's an excellent example of how holiday indulgence doesn't have to mean a departure from your health goals. Instead, it's a delightful way to stay committed while enjoying every sip of the season's cheer.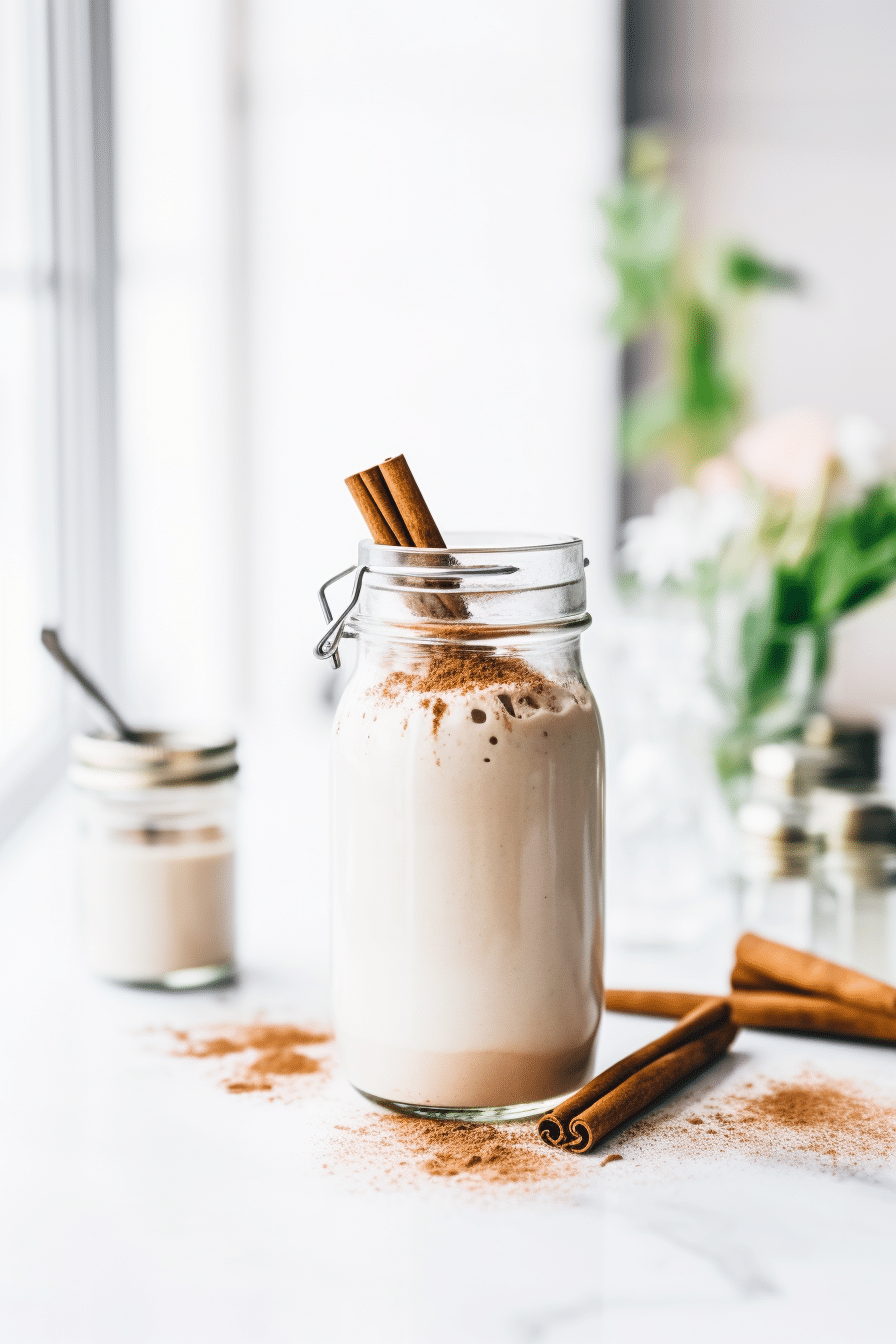 Mastering the Keto Coquito
Creating the perfect Keto Coquito is an art that requires a balance of flavors and a careful selection of ingredients. The method is simple, but attention to detail can elevate your coquito from good to exceptional. Here's a step-by-step guide to ensure your Keto Coquito is the star of the holiday season.
Step 1: Begin by selecting the highest quality unsweetened coconut milk and cream. These ingredients form the base of your coquito and will significantly influence the final taste and texture. For the almond milk, opt for an unsweetened variety to maintain a low-carb profile.
Step 2: When adding the granulated erythritol, ensure it's evenly distributed before blending to achieve a consistent sweetness. Erythritol is a keto-friendly sweetener that won't spike your blood sugar levels, making it an ideal choice for this recipe.
Step 3: The spices are what truly make a coquito memorable. Use freshly ground cinnamon, nutmeg, and cloves for a more potent and aromatic flavor. Blend these with the vanilla extract until the mixture is velvety smooth.
Step 4: If you choose to include rum, select a white variety for its clean, subtle flavor that won't overpower the delicate balance of the coquito. Blend on low to avoid over-aeration, which can affect the creamy consistency.
Step 5: Patience is key when chilling your Keto Coquito. Allow it to rest in the refrigerator for at least two hours, or preferably overnight, to let the flavors marry and the texture to thicken to perfection.
Step 6: Before serving, stir the coquito gently to ensure any spices that may have settled are reincorporated. Serve chilled with a garnish of a cinnamon stick for an extra touch of elegance.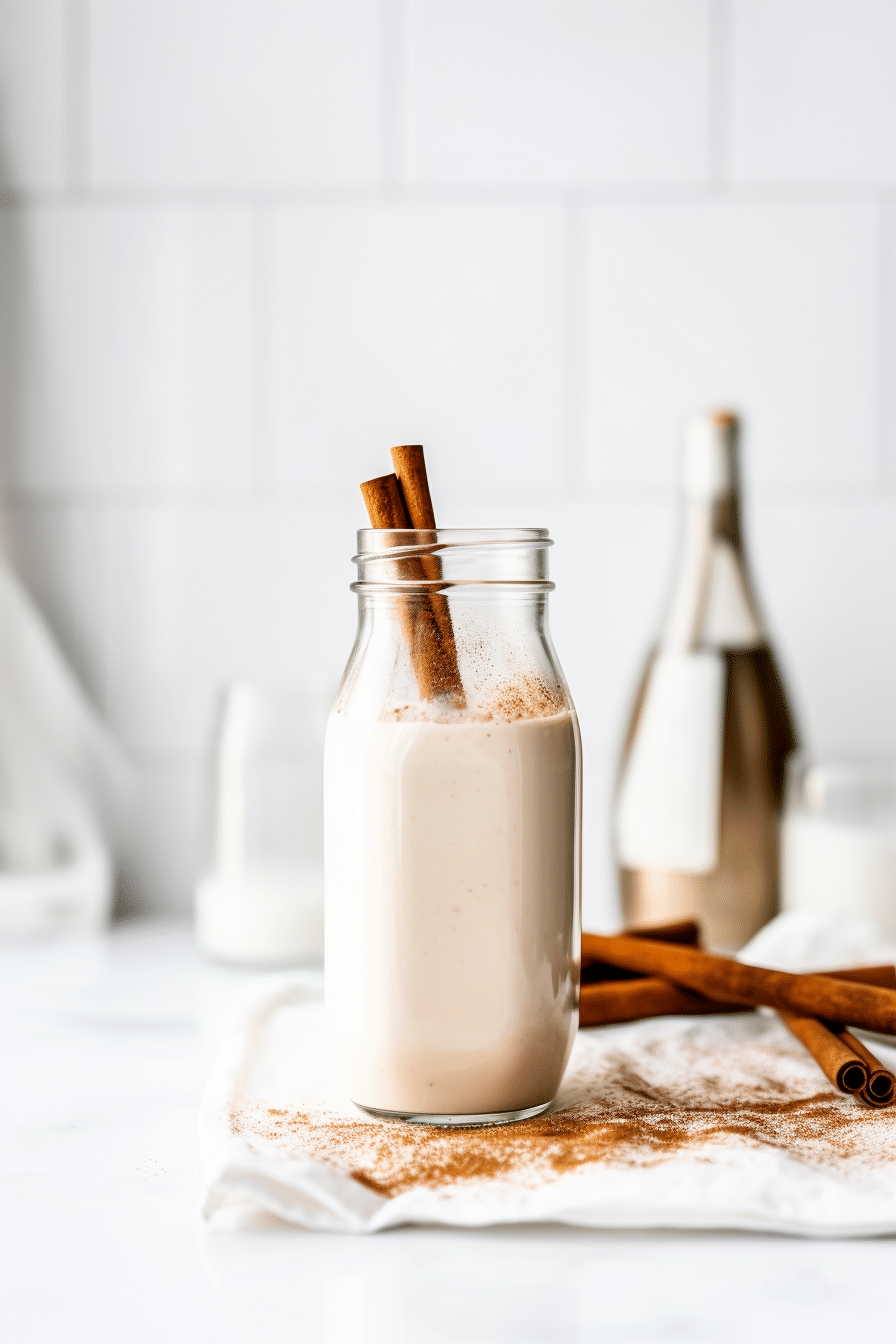 Variations to Spice Up Your Keto Coquito
Chocolate Keto Coquito
For a decadent twist, add unsweetened cocoa powder to the blender before mixing. Chocolate and coconut are a match made in heaven, and this variation is sure to please the chocolate lovers at your table.
Dairy-Free Keto Coquito
If you're avoiding dairy, you can still enjoy a rich coquito experience. Substitute the almond milk with a nut-free milk alternative like hemp or flax milk for a creamy, allergen-friendly beverage.
Spiced Rum Keto Coquito
Enhance the warmth of your coquito by using spiced rum instead of white rum. The additional spices in the rum will complement the existing flavors and add a complex depth to your drink.
Substitutions for Your Keto Coquito
If you don't have granulated erythritol on hand, other keto-friendly sweeteners like monk fruit sweetener or stevia can be used. Be sure to adjust the quantity to achieve your desired sweetness level.
In case you're out of coconut milk or cream, a rich, full-fat heavy cream can serve as a substitute. This will provide a similar creamy texture and luxurious mouthfeel.
For those who prefer a non-alcoholic version, simply omit the rum. You can add a splash of rum extract to maintain the traditional flavor without the alcohol content.
Frequently Asked Questions
Can I make Keto Coquito ahead of time? Yes, in fact, it's recommended to make it in advance to allow the flavors to meld. It can be stored in the refrigerator for up to 4-5 days.
Is Keto Coquito dairy-free? This recipe is dairy-free as written, using coconut and almond milk. However, substitutions can be made if dairy is not a concern for you.
How can I thicken my Keto Coquito? For a thicker consistency, allow the coquito to chill overnight. The cold temperature will naturally thicken the mixture.
Can I use a different sweetener? Yes, you can use any keto-friendly sweetener to taste. Remember to adjust the quantity as sweetness levels vary between sweeteners.
Is it necessary to include rum? No, rum is traditional but optional. You can enjoy a non-alcoholic Keto Coquito by omitting the rum or using a non-alcoholic rum flavoring.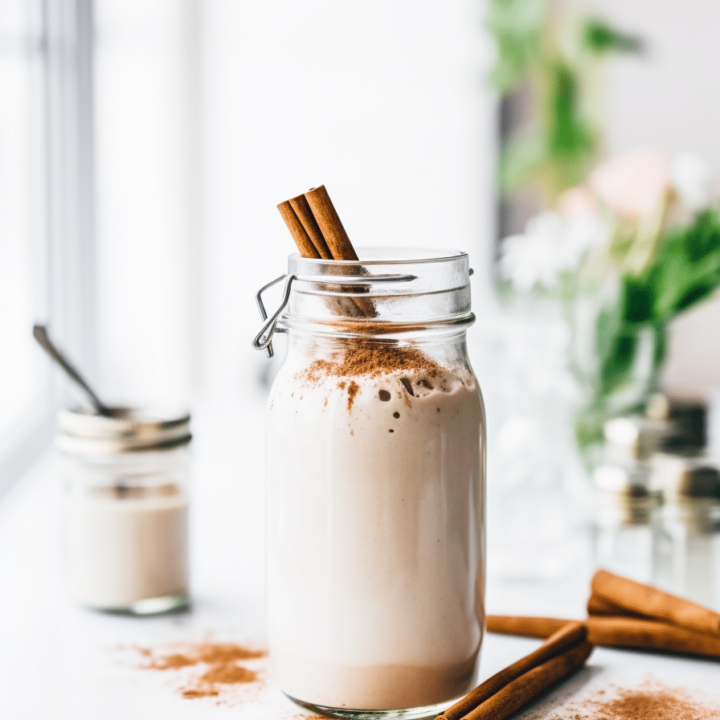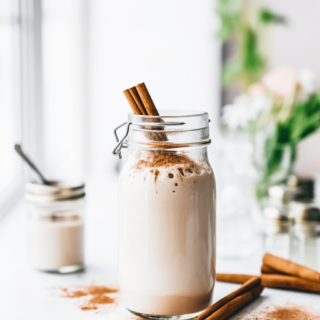 Perfect Keto Coquito
Traditional coquito is a Puerto Rican holiday drink akin to eggnog, rich and creamy with a tropical twist. This Keto Coquito recipe brings the festive spirit to your low-carb lifestyle, ensuring you don't miss out on the holiday cheer.
Ingredients
- 1 13.5-ounce can of unsweetened coconut milk

400 ml

- 1 13.5-ounce can of unsweetened coconut cream

400 ml

- 1 cup of unsweetened almond milk

240 ml

- 1/2 cup of granulated erythritol

100g

- 1 teaspoon of pure vanilla extract

5 ml

- 1 teaspoon of ground cinnamon

2.6g

- 1/4 teaspoon of ground nutmeg

0.6g

- 1/8 teaspoon of ground cloves

0.3g

- 1 cup of white rum

optional (240 ml)

- Cinnamon sticks for garnish
Instructions
Begin by combining the unsweetened coconut milk, coconut cream, and unsweetened almond milk in a large blender.

Add the granulated erythritol to the blender, ensuring it is evenly dispersed for a consistent sweetness throughout the coquito.

Incorporate the pure vanilla extract, ground cinnamon, ground nutmeg, and ground cloves into the mixture, blending until all ingredients are well combined and the mixture is smooth.

If including rum, pour it into the blender and blend on low for an additional 30 seconds to mix thoroughly.

Chill the mixture in the refrigerator for at least 2 hours. This step is crucial as it allows the flavors to meld and the coquito to thicken slightly.

Once chilled, give the coquito a gentle stir or shake, then serve in small glasses garnished with a cinnamon stick.
Notes
- The inclusion of rum is traditional but optional; omit it for a non-alcoholic version.
- For a thicker coquito, refrigerate overnight.
- Granulated erythritol can be substituted with another keto-friendly sweetener; adjust the quantity based on sweetness preference.
- Always consume alcohol responsibly.
- Keep refrigerated and consume within 4-5 days for best quality.
Nutrition
Serving:
1
g
Calories:
375
kcal
Carbohydrates:
13
g
Protein:
4
g
Fat:
36
g
Saturated Fat:
31
g
Polyunsaturated Fat:
3
g
Cholesterol:
4
mg
Sodium:
54
mg
Fiber:
9
g
Sugar:
3
g