Bacon and Gruyère Keto Quiche: A Culinary Delight
Embark on a journey to a delightful and hearty meal that aligns perfectly with your keto lifestyle. This Bacon and Gruyère Keto Quiche is not just a dish; it's a statement that healthy eating can be both luxurious and delicious. With a crispy bacon edge, rich Gruyère cheese, and a tender almond flour crust, this quiche is the epitome of low carb indulgence. Whether you're looking for a sumptuous breakfast, a brunch centerpiece, or a comforting lunch, this quiche fits the bill, proving that keto-friendly can also be palate-pleasing.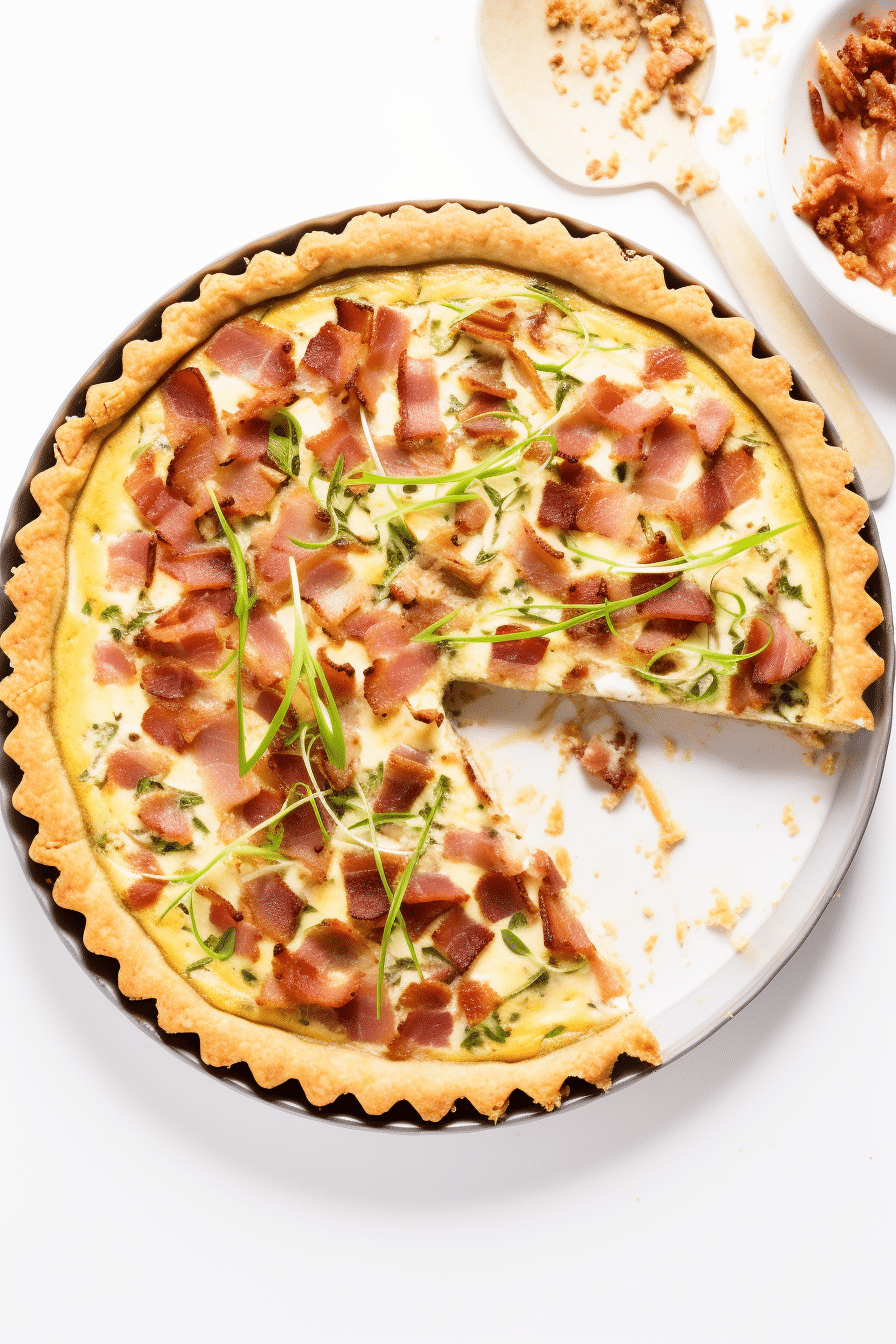 The Story Behind the Quiche
My passion for keto cooking led me to create this French-inspired masterpiece. The Bacon and Gruyère Keto Quiche was born from a desire to enjoy classic flavors while maintaining a low-carb diet. The nutty hints of Gruyère and the smoky tones of bacon come together in a dance of flavors, encased in a buttery almond flour crust that's as satisfying as it is nutritious. This quiche is not just food; it's a testament to the versatility and richness possible within keto cuisine.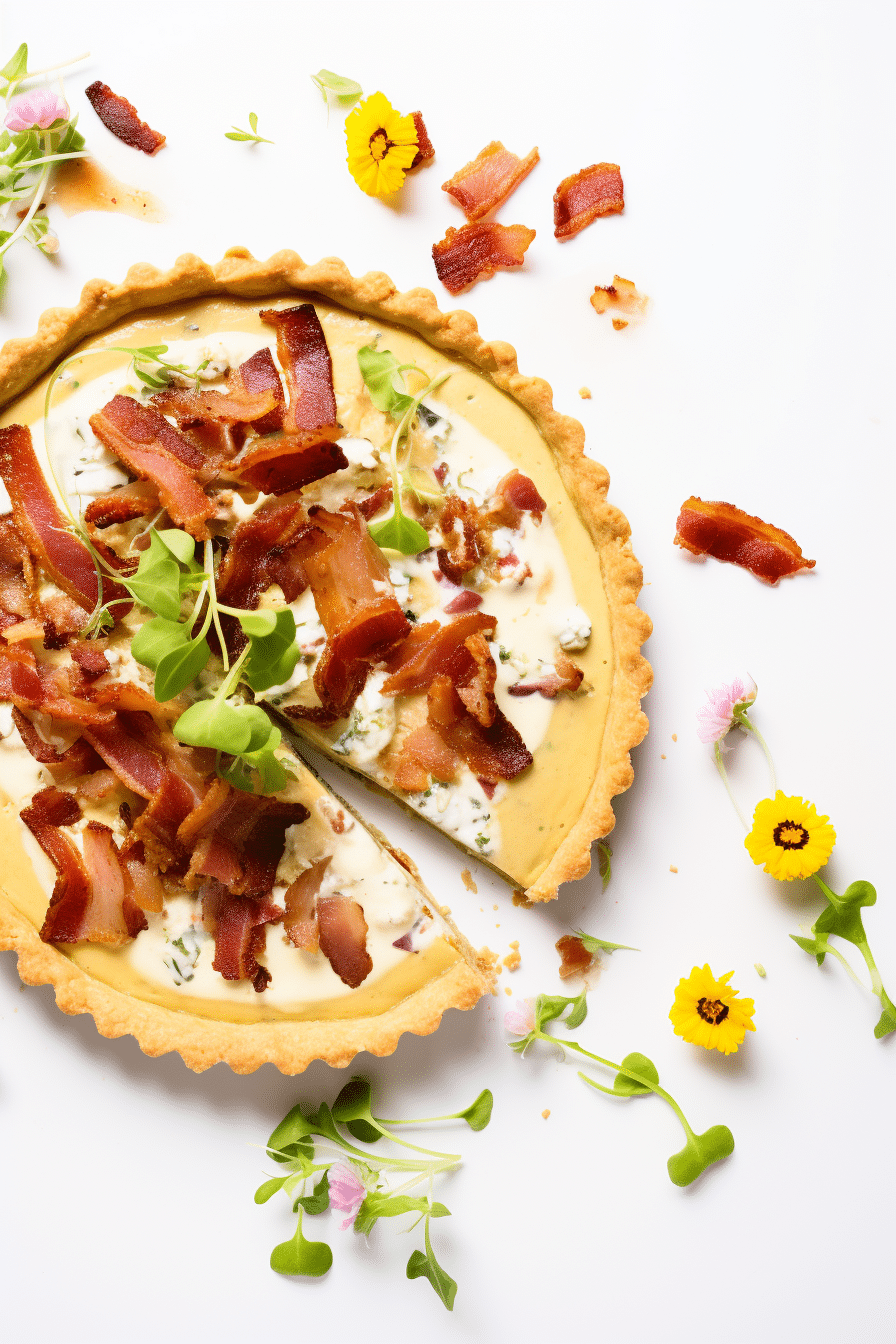 Mastering the Method
Creating this quiche is like conducting an orchestra, where each ingredient plays a critical role in the final symphony of flavors. The key to a perfect quiche lies in the balance of textures and tastes. From the golden, flaky crust to the creamy, savory filling, each step is crucial. Here, I'll guide you through the nuances of crafting a quiche that's bound to impress.
Attention to detail is paramount. For instance, when pre-baking the crust, watch for the moment it turns lightly golden—this is when it's just right. As for the filling, whisking the eggs and cream to the right consistency ensures a smooth, luxurious texture. And don't forget to let the quiche rest before slicing; this patience is rewarded with perfectly set pieces that hold their shape.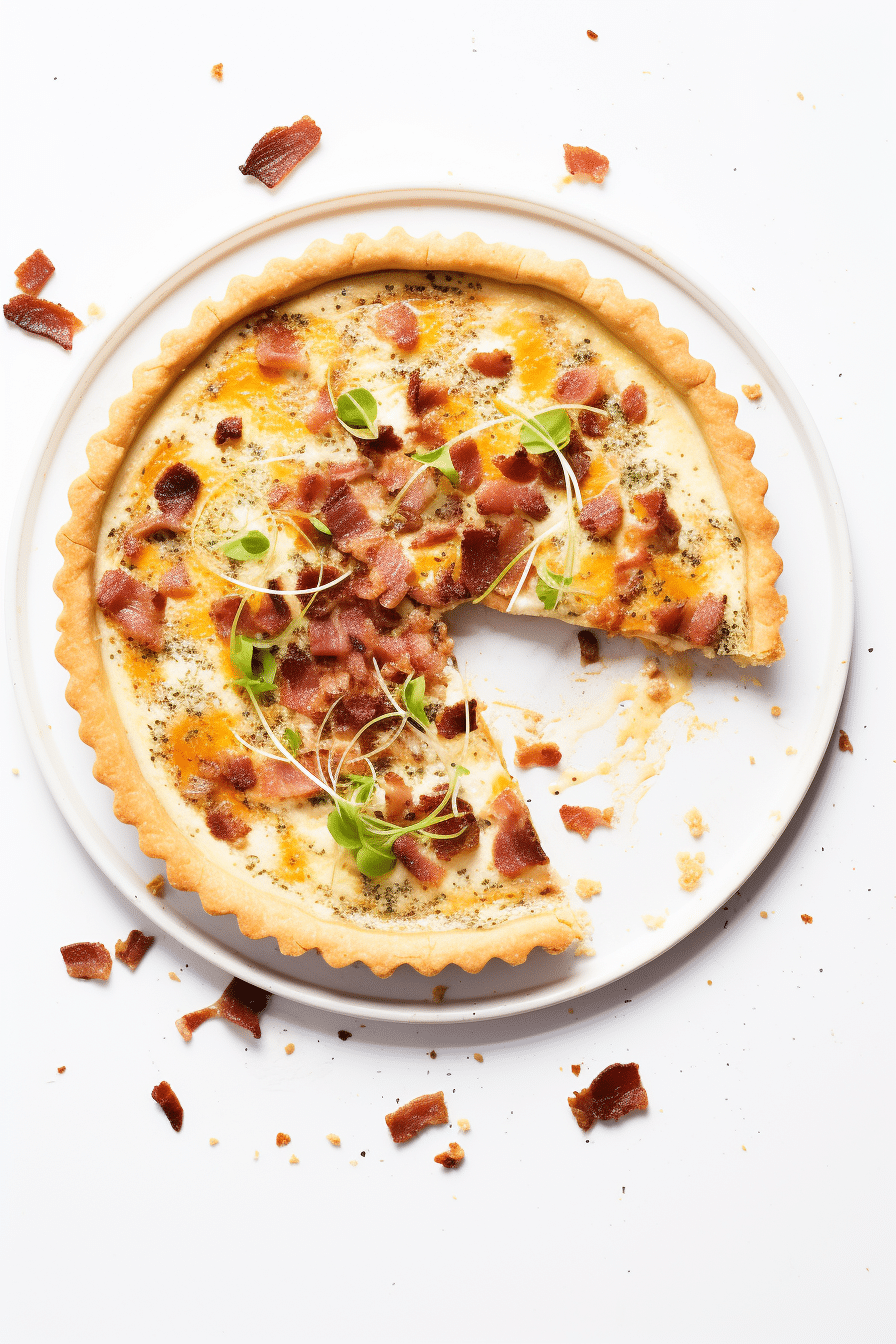 Variations to Savor
Mediterranean Twist
Imagine the sunny shores of the Mediterranean as you bite into a quiche filled with feta cheese, spinach, and sun-dried tomatoes. This variation brings a fresh and tangy flavor profile that's sure to please.
Smoked Salmon Elegance
For a touch of luxury, replace the bacon with smoked salmon. The subtle smokiness of the salmon pairs beautifully with the richness of the Gruyère, creating a quiche that's fit for the finest brunches.
Spicy Chorizo Adventure
Spice things up with chorizo. Its bold flavors and a hint of heat make for an exciting twist on the classic quiche, transporting your taste buds to the vibrant streets of Spain.
Substitutions for Every Pantry
Not everyone has the same ingredients on hand, and that's okay! Whether it's due to dietary restrictions or simply what's available, here are some substitutions that keep your quiche keto and delicious.
For the crust, try coconut flour as an alternative to almond flour. If you're out of Gruyère, aged cheddar brings a similar depth of flavor. And for the heavy cream, a dollop of full-fat Greek yogurt can work wonders in a pinch.
Frequently Asked Questions
| Question | Answer |
| --- | --- |
| Can I make this quiche ahead of time? | Yes, you can prepare the quiche and store it in the refrigerator for up to 3 days, or freeze it for later enjoyment. |
| How do I know when the quiche is fully cooked? | The quiche is done when the center is set and no longer jiggly, and the top is a beautiful golden brown. |
| Can I use a different type of cheese? | Absolutely! Feel free to experiment with cheeses like cheddar or mozzarella for a different flavor profile. |
| What can I serve with this quiche? | A fresh green salad or steamed vegetables complement the richness of the quiche perfectly. |
| Is this quiche suitable for other diets? | While it's designed for keto, it's also gluten-free and can be adapted for other dietary needs with the right substitutions. |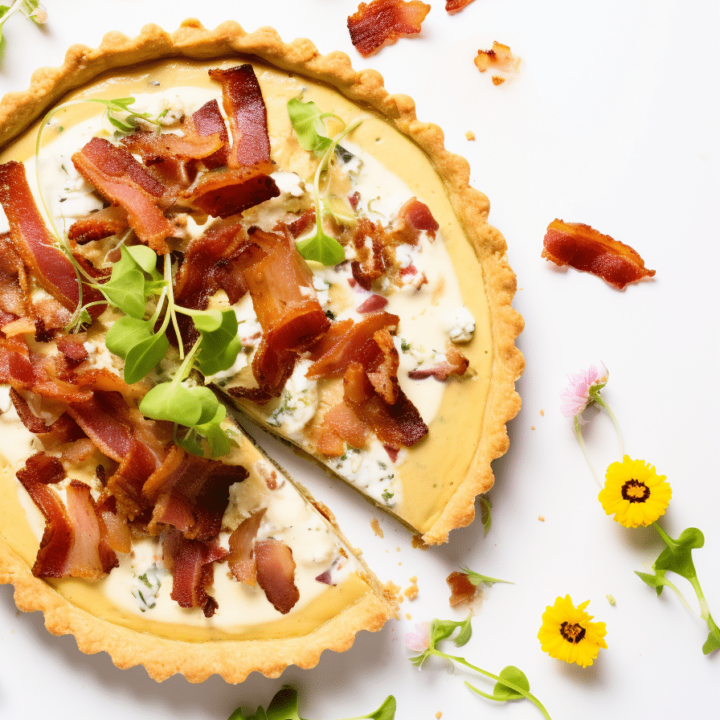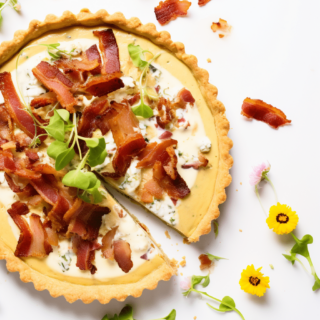 Bacon and Gruyère Keto Quiche
Dive into the savory delight of our Bacon and Gruyère Keto Quiche, a perfect fusion of crispy bacon, rich cheese, and a tender almond flour crust that's utterly low carb and keto-friendly. Ideal for any meal when you crave something hearty yet healthy.
Ingredients
For the crust:

- 1 1/2 cups almond flour

150g

- 1/4 cup unsalted butter

melted (60g)

- 1/2 teaspoon salt

For the filling:

- 6 large eggs

- 1 cup heavy cream

240ml

- 1 cup Gruyère cheese

shredded (100g)

- 6 slices bacon

cooked and crumbled

- 1/2 teaspoon black pepper

- 1/4 teaspoon nutmeg

- Salt to taste
Instructions
Preheat your oven to 350°F (175°C).

In a medium bowl, combine almond flour, melted butter, and salt, mixing until it forms a dough.

Press the dough into the bottom and up the sides of a 9-inch (23 cm) pie pan, forming an even crust.

Bake the crust for 10 minutes, or until it's lightly golden. Remove from the oven and let it cool slightly.

In a separate bowl, whisk together eggs, heavy cream, black pepper, nutmeg, and a pinch of salt.

Sprinkle half of the shredded Gruyère cheese onto the cooled crust.

Evenly distribute the crumbled bacon over the cheese layer.

Pour the egg mixture over the bacon and cheese.

Top with the remaining Gruyère cheese.

Bake in the preheated oven for 25-30 minutes, or until the quiche is set and the top is golden brown.

Remove from the oven and let it rest for 5 minutes before slicing and serving.

Notes
- To ensure the quiche is cooked evenly, place the pie pan on a baking sheet before putting it in the oven.
- Allow the quiche to cool for a few minutes before slicing to help it set and hold its shape.
- The quiche can be stored in the refrigerator for up to 3 days or frozen for a longer shelf life.
- For a crustless version, simply grease the pie pan, skip the crust ingredients and steps, and bake the filling directly in the pan.
- Feel free to add herbs like chives or parsley for added flavor.
- Always use pre-shredded cheese for convenience or shred your own for a fresher taste and better meltability.
Nutrition
Serving:
1
g
Calories:
425
kcal
Carbohydrates:
6
g
Protein:
16
g
Fat:
38
g
Saturated Fat:
16
g
Polyunsaturated Fat:
20
g
Trans Fat:
1
g
Cholesterol:
211
mg
Sodium:
505
mg
Fiber:
3
g
Sugar:
2
g