Keto Cinnamon Star Cookies: A Festive, Low-Carb Delight
As the holiday season approaches, the search for festive treats that fit within a ketogenic lifestyle becomes paramount. Enter the Keto Cinnamon Star Cookies: a delightful confection that promises to satiate your sweet tooth without compromising your carb count.
These cookies are not merely a treat; they're a celebration of flavor and tradition, reimagined for the keto diet. With a heavenly blend of cinnamon and natural sweeteners, they deliver all the joy of holiday baking in a guilt-free package. Perfect for sharing with family and friends, these cookies are sure to become a new holiday staple in your keto repertoire.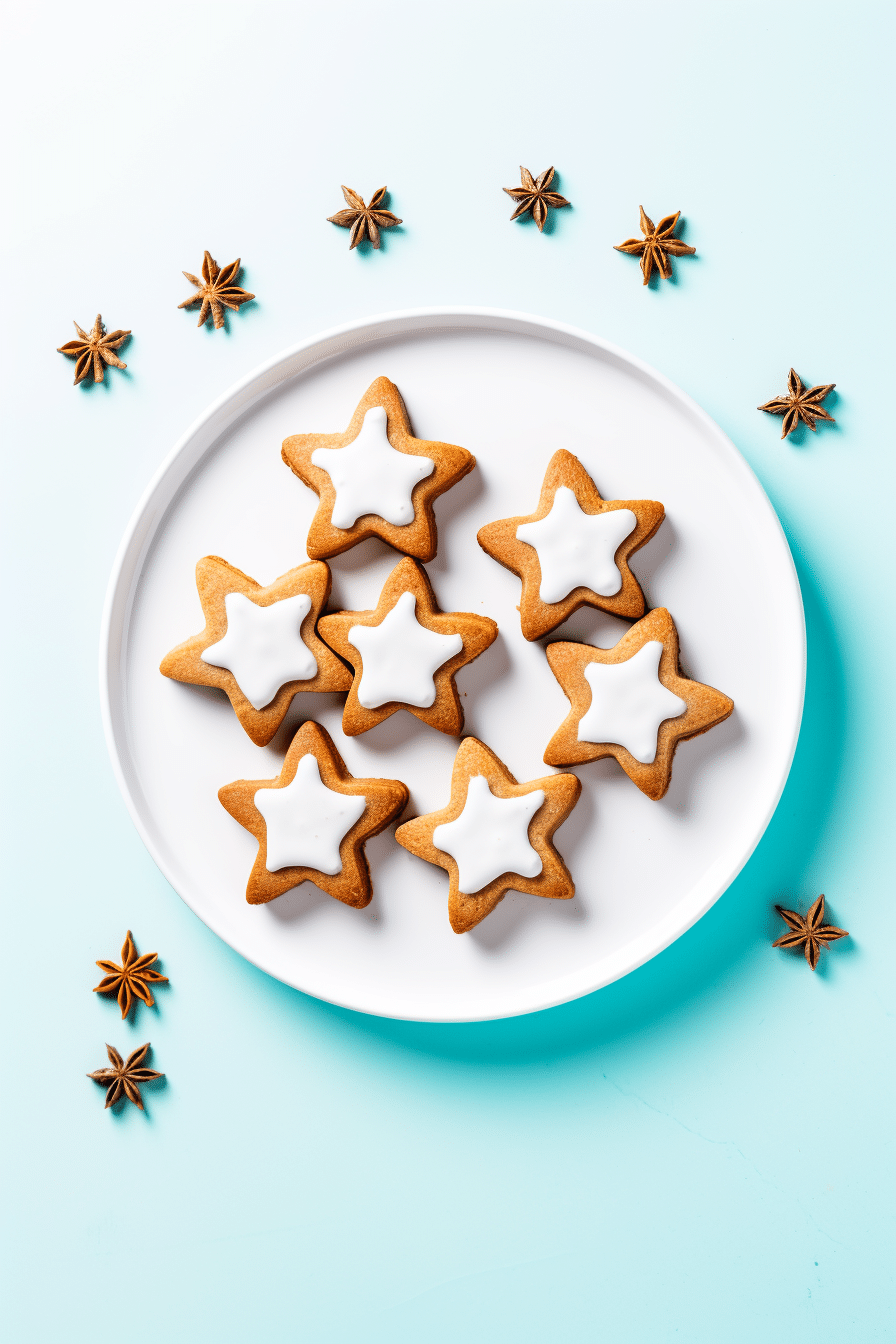 The Story Behind Keto Cinnamon Star Cookies
These Keto Cinnamon Star Cookies are more than just a recipe; they are a testament to the ingenuity of the keto community. Born from the desire to enjoy traditional holiday treats without the high carb content, these cookies embody the spirit of innovation that the keto diet inspires.
Crafted with almond flour and erythritol, they offer a low-carb alternative to classic cinnamon stars, ensuring that you can partake in the joy of the season while staying true to your dietary goals.
What makes these cookies an excellent keto option is their high-fat content, primarily from the butter and almond flour, which aligns perfectly with the macronutrient requirements of a ketogenic diet. Moreover, they are sweetened with erythritol, a sugar alcohol that has minimal impact on blood sugar levels, making it an ideal choice for those monitoring their glycemic response.
From the warm, inviting aroma of cinnamon that fills the kitchen during baking to the delicate, buttery texture that melts in your mouth, these cookies are a celebration of the senses. They are not just a treat; they are a comforting reminder of the holidays, redefined for those who follow a keto lifestyle.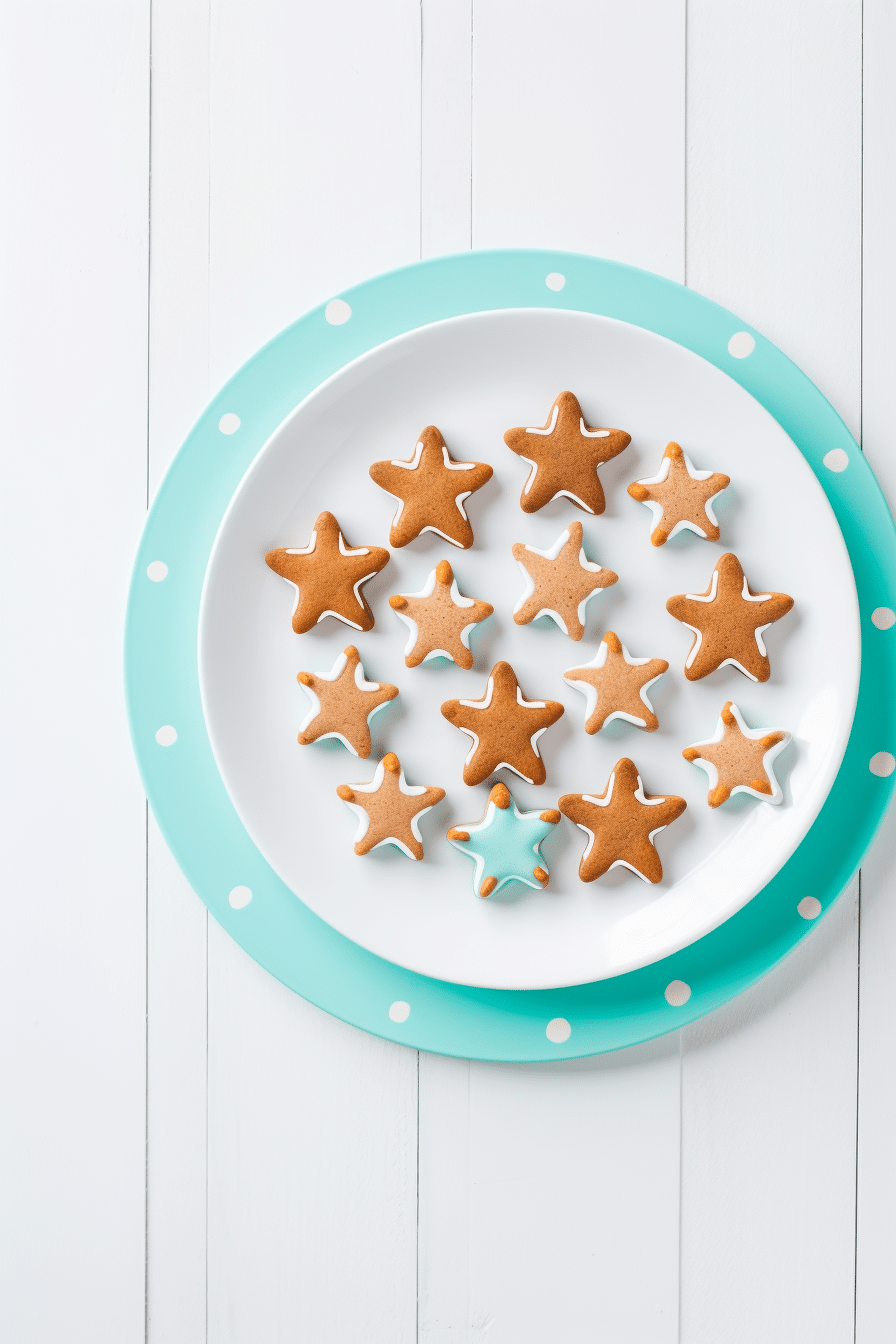 Mastering the Art of Keto Cookie Baking
The key to perfecting these Keto Cinnamon Star Cookies lies in the method. Begin by preheating your oven to ensure a consistent baking temperature. When combining your dry ingredients, whisk them together to aerate the almond flour, which can become dense if packed. This step is crucial for achieving a light, tender cookie.
As you incorporate the softened butter, do so gently, allowing it to blend seamlessly with the dry mix. This creates pockets of fat that will steam during baking, contributing to the cookie's flaky texture. Cracking the egg into the bowl should be done with precision, as the egg acts as a binder that holds the cookie together while still allowing it to crumble delicately on the palate.
Rolling the dough between two sheets of parchment paper prevents sticking and ensures an even thickness, which is paramount for uniform baking. When cutting out the stars, be swift and precise to maintain the dough's integrity. As the cookies bake, watch for the telltale golden edges that signal they're done to perfection. Cooling on a wire rack is the final, essential step that allows the cookies to firm up without becoming soggy.
Remember, the hallmark of a great keto cookie is texture and taste that rival their high-carb counterparts. With these tips, you're well on your way to creating a batch of Keto Cinnamon Star Cookies that are sure to impress.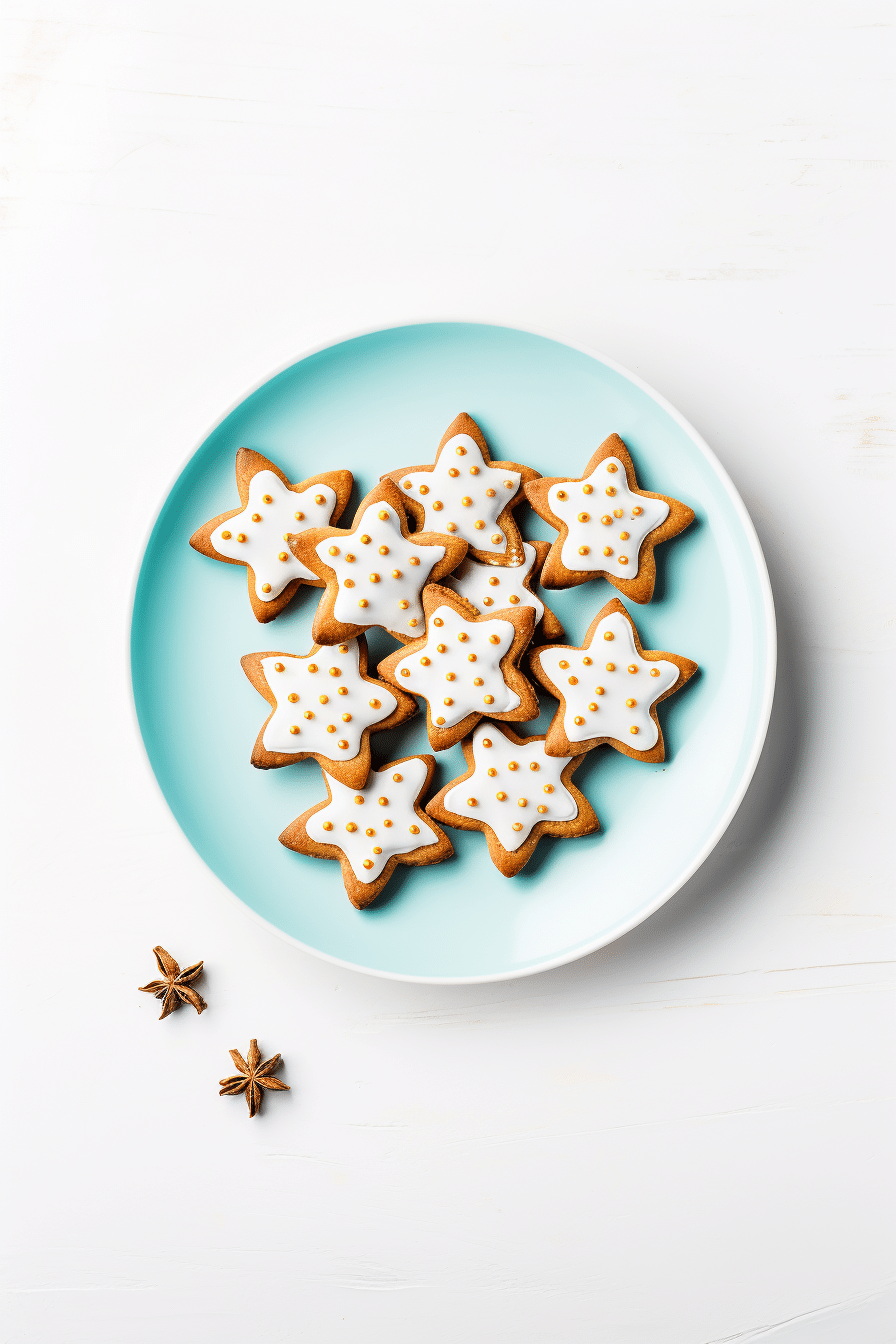 Creative Twists on the Classic Keto Cinnamon Star
Chocolate-Dipped Cinnamon Stars
For a decadent twist, dip half of each cooled cookie into melted sugar-free dark chocolate. Lay them on parchment paper and refrigerate until the chocolate sets. This variation adds a rich, indulgent layer to the classic cinnamon flavor.
Nutty Cinnamon Stars
Enhance the nutty flavor by pressing a pecan or walnut half into the center of each cookie before baking. This not only adds a delightful crunch but also boosts the healthy fats, making the cookies even more keto-friendly.
Spiced Cinnamon Stars
Introduce a warm spice blend by adding a pinch of nutmeg and cardamom to the dough. These spices complement cinnamon beautifully and add a complex flavor profile that's especially cozy during the colder months.
Ingredient Swaps for Keto Cinnamon Star Cookies
If almond flour is not to your liking or you have an allergy, coconut flour can be used as a substitute. Keep in mind, coconut flour is more absorbent, so you'll need to adjust the quantity—start with 1/3 of the amount of almond flour and increase as needed for the right dough consistency.
For those who prefer a different sweetener, monk fruit sweetener is a great alternative to erythritol. It has a similar sweetness profile and does not impact blood sugar levels, making it a suitable keto-friendly option.
For a dairy-free version, replace the butter with coconut oil. This swap not only caters to those with dairy sensitivities but also adds a subtle tropical flavor to the cookies, creating a unique taste experience.
Frequently Asked Questions
Question
Answer
Can I use a different type of flour?
Almond flour is recommended for its low-carb content and texture. However, if you need an alternative, coconut flour or another nut flour can be used with adjustments to the recipe.
How do I store these cookies?
Store the cookies in an airtight container at room temperature for up to a week or refrigerate for extended freshness.
Can I make these cookies nut-free?
For a nut-f

ree version, try using sunflower seed flour, but be aware that this may slightly alter the flavor and texture.

What can I use instead of erythritol?
Monk fruit sweetener, stevia, or allulose are all suitable substitutes that maintain the low-carb quality of the cookies.
Can I freeze the dough for later use?
Yes, the dough can be frozen. Wrap it tightly in plastic wrap and freeze for up to 3 months. Thaw in the refrigerator before rolling and cutting.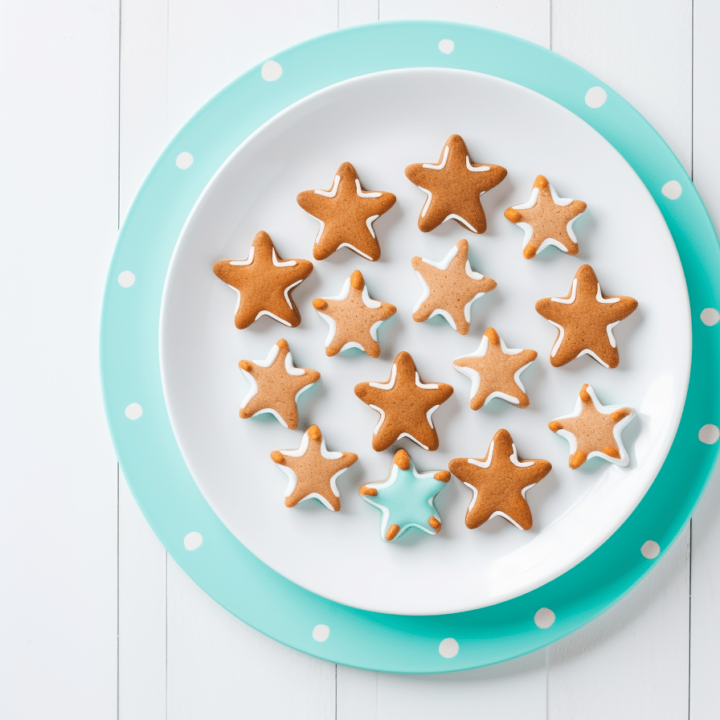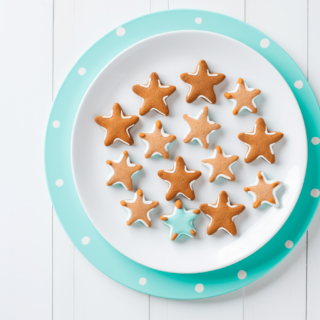 Keto Cinnamon Star Cookies
These Keto Cinnamon Star Cookies are a festive treat that will brighten up your holiday spread. With a perfect blend of cinnamon and sweetness, they're a delightful low-carb option for anyone looking to indulge without breaking their keto commitments.
Ingredients
- 2 cups almond flour

224g / 7.9 oz

- 1/2 cup granulated erythritol

100g / 3.5 oz

- 1 tsp ground cinnamon

2.6g / 0.09 oz

- 1 tsp vanilla extract

4.9ml / 0.16 fl oz

- 1 large egg

- 1/4 cup unsalted butter

softened (56g / 2 oz)

- 1/4 tsp salt

1.5g / 0.05 oz

- 1/2 tsp baking powder

2g / 0.07 oz
Instructions
Preheat your oven to 350°F (175°C). Line a baking sheet with parchment paper or a silicone baking mat.

In a large mixing bowl, combine the almond flour, granulated erythritol, ground cinnamon, salt, and baking powder.

Add the softened butter and vanilla extract to the dry ingredients. Crack the egg into the bowl.

Using a hand mixer or a stand mixer fitted with the paddle attachment, mix the ingredients on medium speed until a dough forms. If the dough is too sticky, chill it in the refrigerator for 15-20 minutes.

Place the dough between two sheets of parchment paper and roll out to 1/4 inch thickness.

Use a star-shaped cookie cutter to cut out the cookies and place them on the prepared baking sheet.

Bake in the preheated oven for 12-15 minutes or until the edges are golden brown.

Remove from the oven and allow the cookies to cool on the baking sheet for 5 minutes before transferring them to a wire rack to cool completely.
Notes
- Store in an airtight container for up to 1 week.
- The dough can be made ahead and kept refrigerated for up to 3 days before rolling and cutting.
- For a crispier cookie, roll the dough thinner and watch closely as baking times may be reduced.
- Ensure your ingredients, particularly the egg and butter, are at room temperature for the best dough consistency.
Nutrition
Calories:
150
kcal
Carbohydrates:
4
g
Protein:
4
g
Fat:
14
g
Fiber:
2
g