Welcome to a culinary adventure where the humble radish and turnip are elevated to a sumptuous side dish that's as nutritious as it is delicious. This Garlic Butter Roasted Radish and Turnip recipe is a keto dieter's dream, offering a low-carb alternative to starchy sides without compromising on flavor or satisfaction. Perfectly roasted until golden and dressed in a rich, garlicky glaze, these root vegetables will become a staple in your keto repertoire. Let's unlock the potential of these underrated veggies and turn them into a dish that will impress anyone at your table.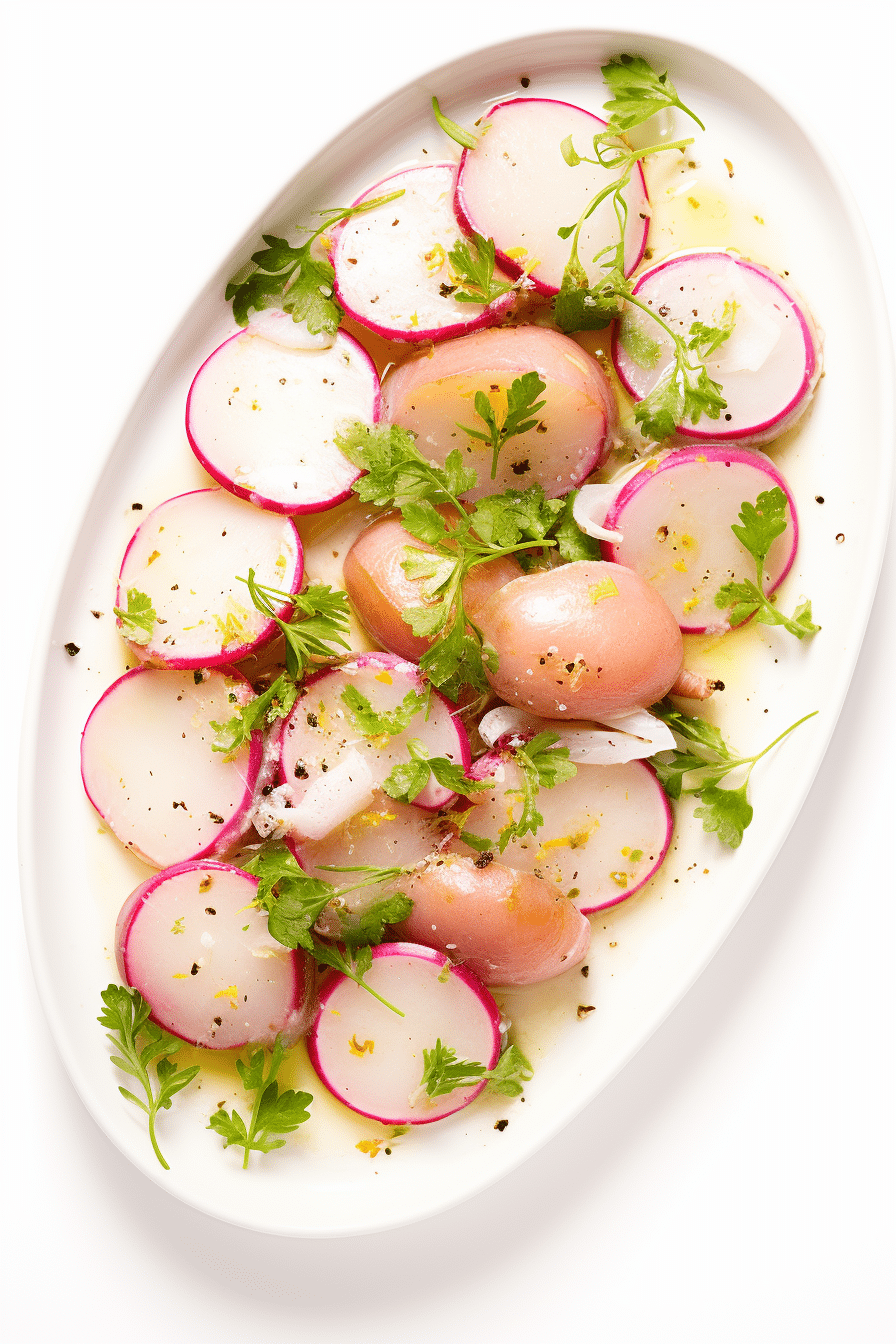 Recipe Details
As someone who has been on a keto journey, I understand the importance of finding recipes that are not only health-conscious but also flavor-packed. This Garlic Butter Roasted Radish and Turnip recipe is a personal favorite, born from a desire to enjoy the comfort of roasted vegetables without the high carb count. These root vegetables, often overlooked, provide a surprisingly satisfying texture and a neutral canvas for the garlic butter to shine.
Radishes and turnips, with their low carbohydrate content, are ideal for the keto diet. They are rich in fiber and nutrients, making them a smart choice for anyone looking to maintain a healthy lifestyle. When roasted, their natural sweetness is enhanced, creating a beautiful contrast with the savory garlic butter. This dish is not only a testament to the versatility of keto cooking but also a reminder that eating healthily does not mean sacrificing taste.
Root vegetables are often associated with heavy, winter dishes, but this recipe brings a lightness and a burst of flavor that is welcome any time of the year. The key to this dish's success is the balance of flavors and the roasting technique, which I will delve into in the method section, ensuring that you achieve the perfect caramelization and tenderness.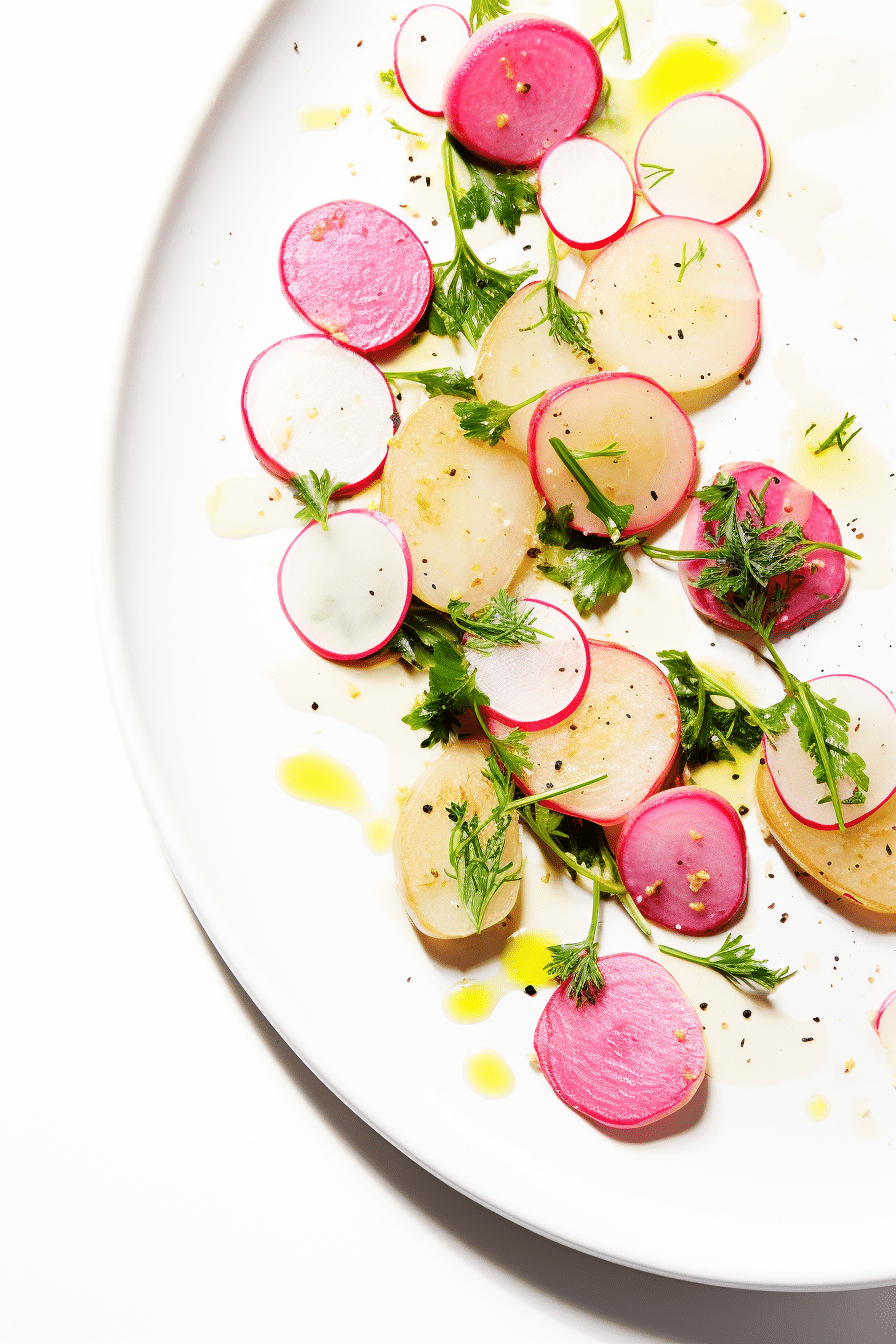 The Method
Creating this dish involves a simple yet precise process that guarantees every bite is infused with flavor. Here's how to master the method:
Start by preheating your oven to 400°F (200°C). This high temperature is crucial for achieving that desirable roasted texture.
Prepare the vegetables by trimming and halving the radishes and cutting the turnips into uniform 1-inch pieces. This ensures even cooking and perfect bite-size pieces.
Combine the veggies with the melted butter in a large bowl. The butter not only adds flavor but also helps the vegetables to roast evenly, creating a beautiful golden color.
Season well with minced garlic, sea salt, and black pepper, tossing to ensure each piece is well-coated. The garlic will mellow as it roasts, infusing the vegetables with a subtle, nutty flavor.
Arrange the vegetables in a single layer on a baking sheet lined with parchment paper. Giving them space allows for heat to circulate, ensuring they roast instead of steam.
Midway through roasting, stir the vegetables. This helps them cook uniformly and develop a consistent golden-brown crust.
Once tender and caramelized, finish with a touch of freshness by sprinkling with chopped parsley and a squeeze of lemon juice. This brightens the dish and cuts through the richness of the butter.
Keep an eye on the vegetables as they roast, as oven temperatures can vary. You want them tender but not mushy, with edges that are crisp and browned. If your radishes and turnips are particularly large or small, adjust the cooking time accordingly.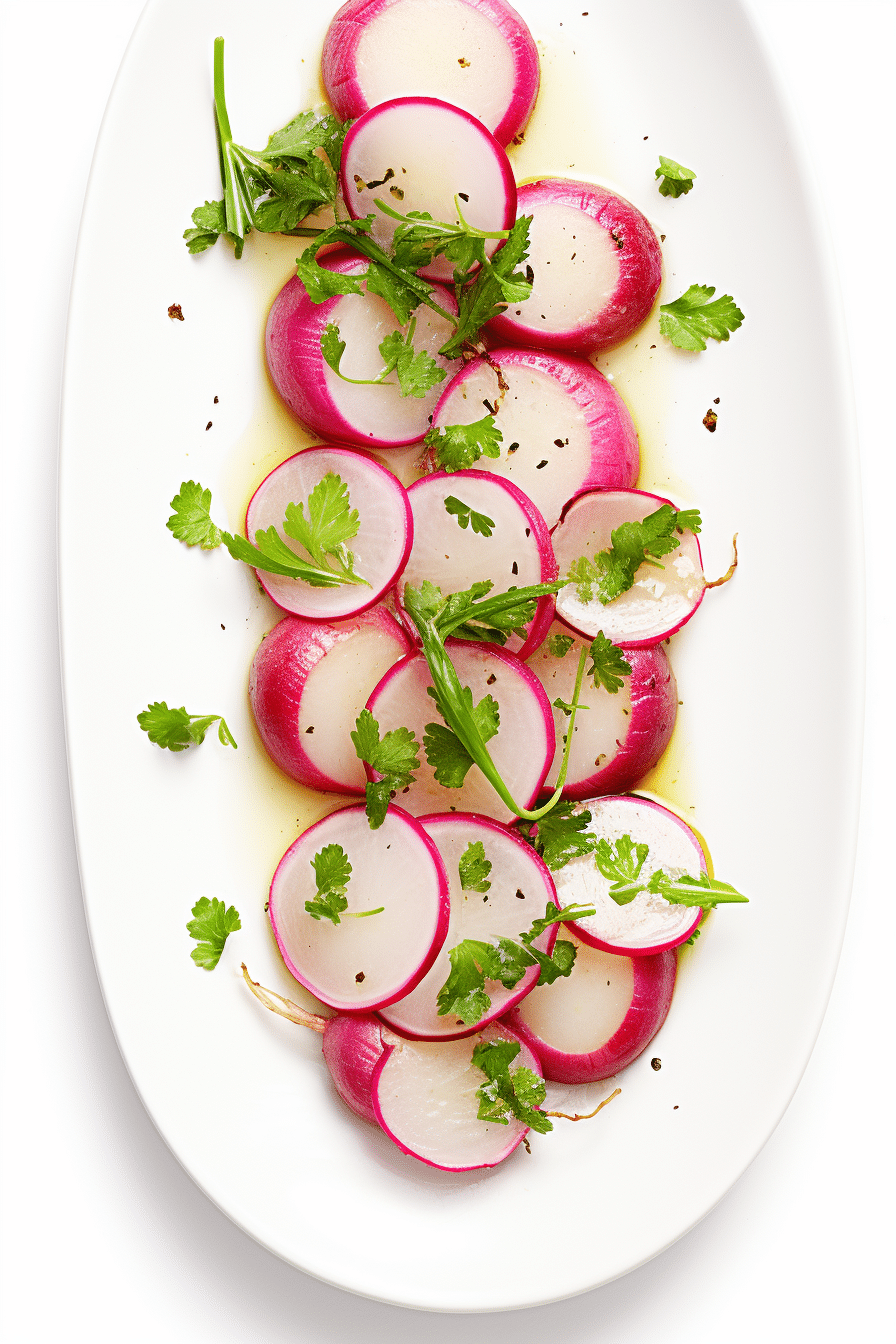 Variations
Herb-Infused Roast
Enhance the aromatic quality of your dish by adding a blend of dried herbs such as thyme, rosemary, or oregano before roasting. The heat will release their essential oils, permeating the vegetables with an herby essence.
Spicy Kick
For those who enjoy a bit of heat, sprinkle a pinch of red pepper flakes or cayenne pepper over the vegetables before roasting. This adds a warm, spicy dimension that contrasts beautifully with the buttery richness.
Cheesy Delight
A few minutes before the vegetables are done roasting, sprinkle a generous amount of grated Parmesan or a keto-friendly cheese on top. The cheese will melt and create a crispy, savory crust that's irresistible.
Substitutions
While this recipe is designed for radishes and turnips, you can easily adapt it using other keto-friendly vegetables. Here are a few substitutions:
Zucchini or Summer Squash
Replace radishes and turnips with zucchini or summer squash for a different texture and flavor profile. Adjust the cooking time as these vegetables will roast quicker.
Cauliflower or Broccoli
Cauliflower or broccoli florets can be substituted for a cruciferous twist. They pair wonderfully with the garlic butter and take on a nutty flavor when roasted.
Brussels Sprouts
Halved Brussels sprouts make a great alternative and roast to perfection with a crispy exterior and tender center.
FAQ
Can I make this recipe dairy-free?
Yes, you can substitute the butter with a dairy-free alternative like coconut oil or ghee (if you tolerate it) to maintain the richness without dairy.
How do I store leftovers?
Store any leftovers in an airtight container in the refrigerator for up to 3 days. Reheat in the oven or on the stovetop for best results.
Can I use frozen radishes or turnips?
It's best to use fresh vegetables for roasting as they will caramelize better. Frozen vegetables tend to release more water and may not roast as well.
How do I know when the vegetables are done roasting?
The vegetables are done when they are fork-tender and have a golden-brown crust. The high heat should give them a slight crispness on the outside while remaining tender inside.
Can I add other vegetables to the mix?
Absolutely! Feel free to include other low-carb vegetables like bell peppers or onions, keeping in mind that they may have different cooking times.
Garlic Butter Roasted Radish and Turnip
Experience a delightful twist on classic root vegetables with this Garlic Butter Roasted Radish and Turnip recipe. Perfect for a keto-friendly side dish, these vegetables are transformed into a golden, aromatic delight, infused with rich garlic butter and fresh herbs. Not only is this dish low in carbs, but it's also packed with flavor, making it a hit for any meal.
Servings: 4
Prep Time: 10 minutes
Cook Time: 25 minutes
Cuisine: Keto, American
Category: Side Dish
Ingredients:
1 pound (454g) radishes, trimmed and halved
1 pound (454g) turnips, peeled and cut into 1-inch pieces
3 tablespoons (43g) unsalted butter, melted
4 cloves garlic, minced
1 teaspoon (5g) sea salt
1/2 teaspoon (2g) black pepper, freshly ground
2 tablespoons (30ml) fresh parsley, chopped
1 teaspoon (5ml) lemon juice
Method:
Preheat your oven to 400°F (200°C).
In a large bowl, toss the halved radishes and turnip pieces with the melted butter, ensuring they are well-coated.
Add the minced garlic, sea salt, and black pepper to the bowl and toss again to distribute the flavors evenly.
Spread the vegetables out in a single layer on a baking sheet lined with parchment paper.
Roast in the preheated oven for 25 minutes, or until the vegetables are tender and golden brown, stirring halfway through the cooking time.
Remove from the oven and transfer to a serving dish.
Sprinkle with fresh parsley and drizzle with lemon juice before serving.
Nutrition Facts:
Per serving:
Calories: 120
Carbohydrates: 8g
Net Carbs: 5g
Fiber: 3g
Fat: 9g
Protein: 2g
Equipment Used:
Large mixing bowl
Baking sheet
Parchment paper
Knife
Chopping board
Other Notes:
If you prefer a more caramelized texture, leave the roasted radishes and turnips in the oven for an additional 5-10 minutes, keeping an eye on them to prevent burning. For an extra flavor boost, consider adding a sprinkle of Parmesan cheese or a handful of chopped nuts like pecans or walnuts during the last few minutes of roasting.