If you like spicy foods and fried chicken then Keto Korean Fried Chicken is for you! This was one of my favorite (non-keto) foods to get delivered on a lazy saturday night, with an addictive sweet,spicy sauce, so I've had this on my to-do list for a while now that I'm eating a ketogenic diet. I'm always on the look out to make keto Korean food as it's one of my favourite cuisines, with lots of flavor and spice!
Keto fried chicken – diet food?!
Keto fried chicken feels incredibly indulgent, this dish will definitely turn the heads of your non-keto friends as it tastes just like the original, if not better. I actually think the 'breading' used in this recipe has more flavour and more crunch than the non-keto original!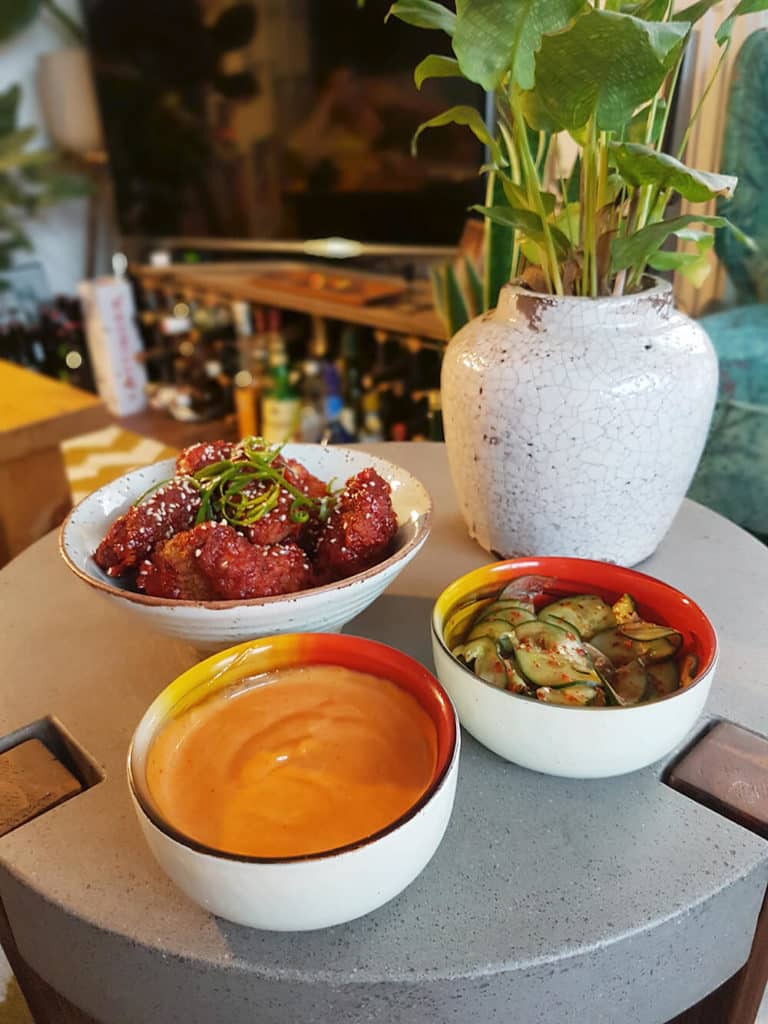 The main ingredient in the sauce is a fermented Korean spice paste called 'Gochujang. This thick, sticky condiment turns up everywhere in Korean cooking and is a deliciously rich, salty and complex sauce that's great to have in the store cupboard, try any asian markets near you, it's usually found in a square red tub. Be warned! Some brands can be extremely spicy, although I find that the heat from gochujang is a lot less painful and more balanced and bearable than many other hot chilli sauces.
As this is a keto dish and we're trying to keep the net carbs as low as possible, so do shop around and check the label between brands as some sweeten the sauce more than others. In particular try to avoid any using corn syrup in the ingredients list. Looking around it seems a tablespoon ranges from 4g up to 10g of net carbs as this recipe only uses 1 tablespoon per serving you should be ok with brands on the lower end of the scale. At the end of the day I think of this dish as an occasional treat so if I break my 10g carb limit by 5 more grams I'm not too worried, this is the closest thing to a cheat meal I'll have on a keto diet anyway.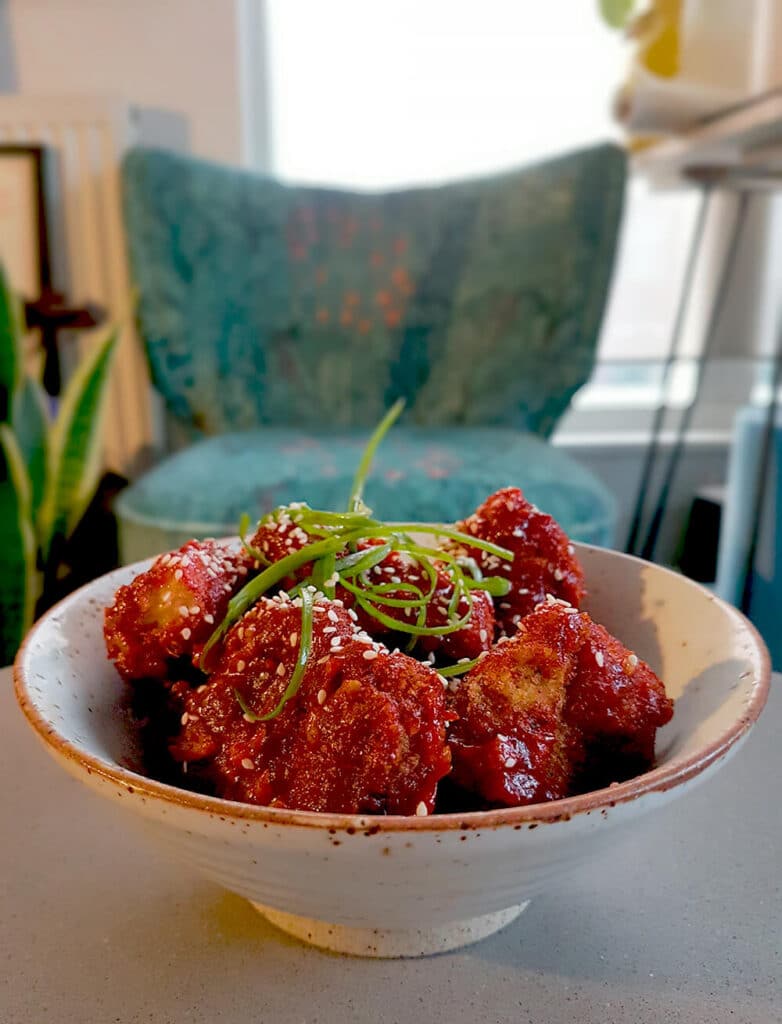 The key to making this a keto fried chicken recipe lies mainly in the breading ingredients. This is a 3 stage process, starting with 'dredging' the chicken in flour, for which I'm using almond flour. The next step is dipping the dredged chicken into whisked up eggs to coat the surface, ready to pick up the final breading. This is where the magic happens, as we swap out carb laden breadcrumbs for……crushed pork rinds! This low carb breading gives so much more flavour and crunch to the keto fried chicken and is a great substitute.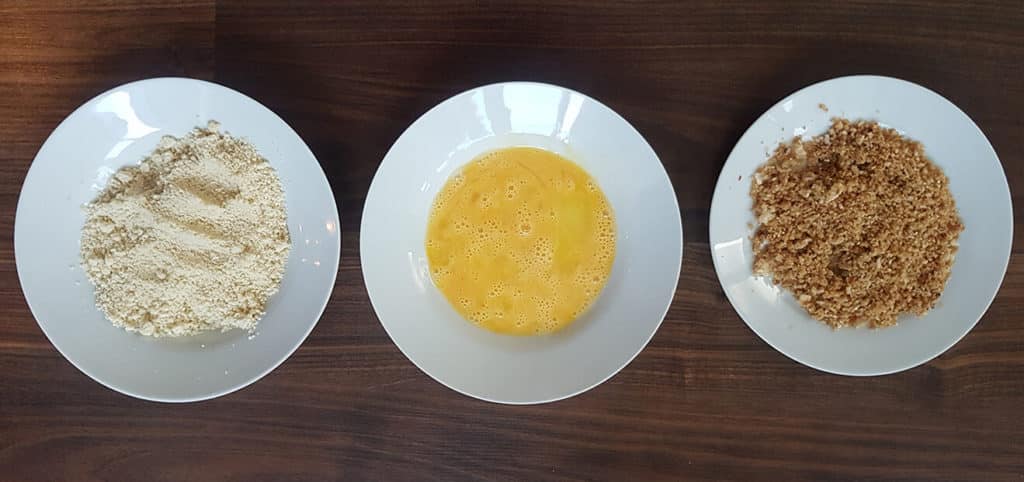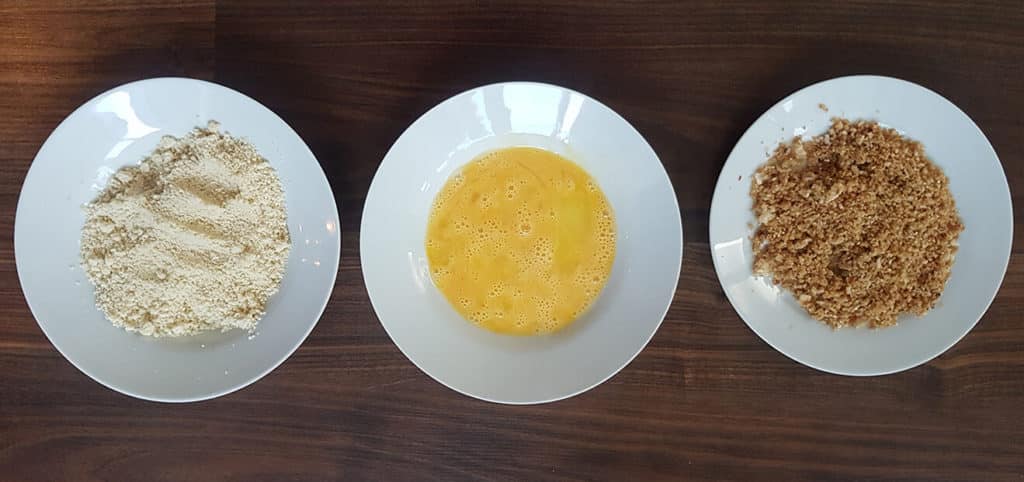 I like to serve this dish with a quick gochujang mayo sauce for dipping – for this combine 3 tablespoons of mayonnaise (store bought or homemade, I'll put together a home-made recipe soon!) with 1 tablespoon of gochujang (watch the carb total though…) and the juice of one lime.
I also like to prepare some quick pickled cucumbers to give some sharp acidity and crispness to contrast the rich, sticky sweetness of the chicken. To make these finely slice half a cucumber and mix up well with 1 teaspoon of salt. Leave this for 30minutes then drain away the liquid which has been extracted from the cucumber and give them a brief rinse (leave a little salt on there for flavour) Add 1 teaspoon of rice vinegar, a pinch of sweetener and either a half teaspoon of gochujang or a tablespoon of korean red pepper flakes (gochugaru) if you can get them and combine. I like to eat a couple of cucumber slices between bites of the chicken for the contrast and to lighten the meal.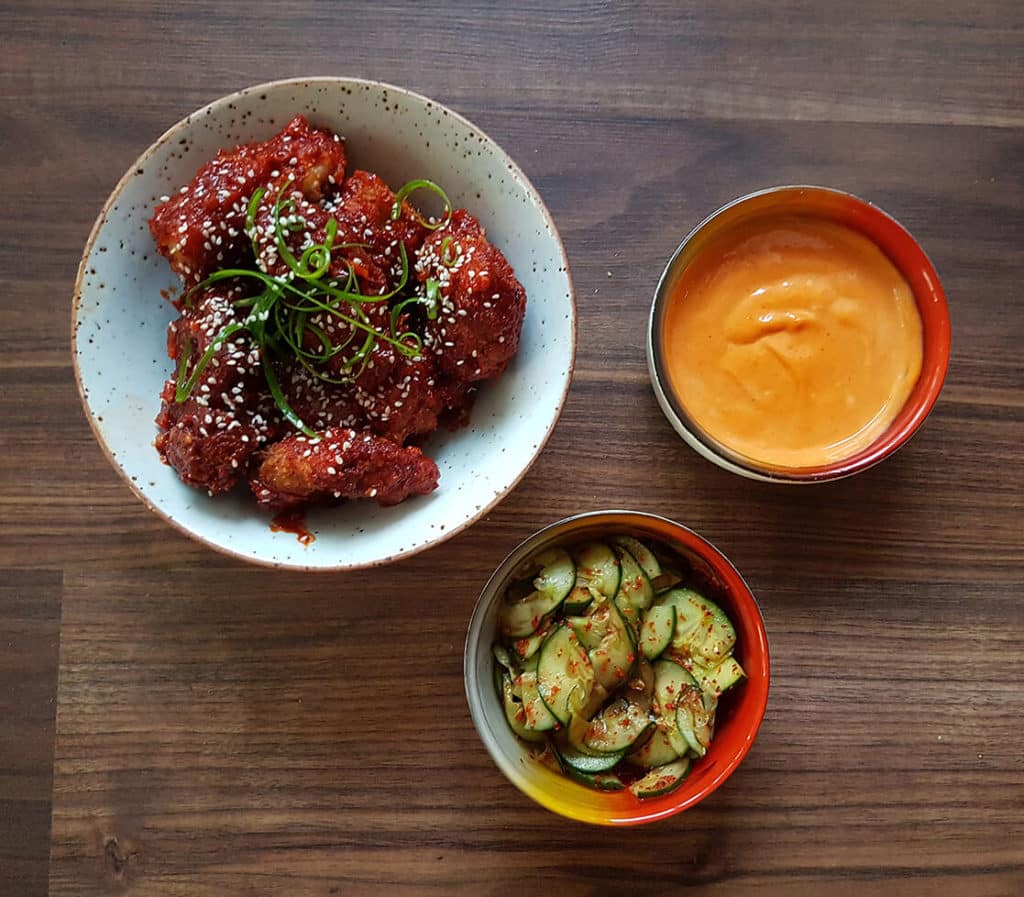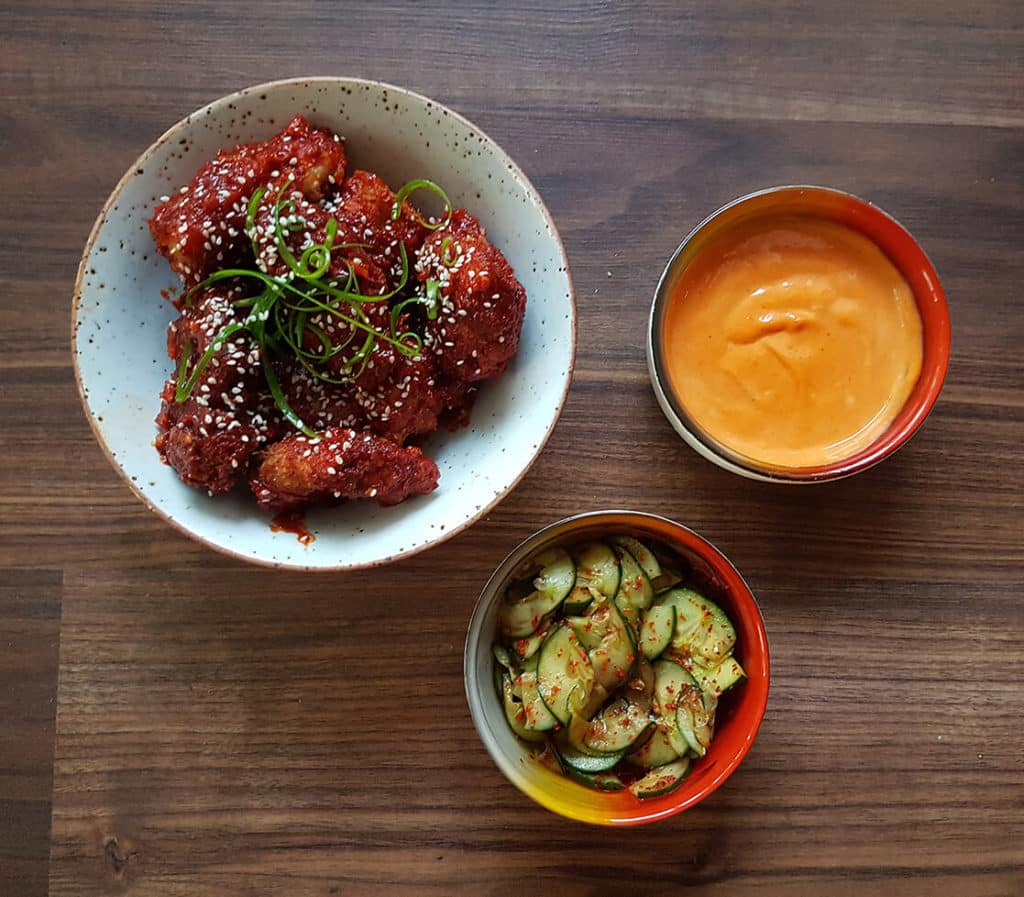 I'll either eat this meal as a snack on it's own (a smaller serving size obviously!) or make up some cauliflower rice to turn it into a full meal. Try making this for your non-keto friends, this meal shows that going keto doesn't need to feel restrictive or boring, who knows, it may even lead to some new converts! (This would be great to serve as a Keto Super Bowl Snack!) Let me know in the comments below if you've tried this and what you think.
(note: the calorie counts etc. are based on approximating the amount of breading etc. that actually sticks to your chicken, while the recipe calls for 1 cup of almond flour, most of that won't actually make it onto the chicken)
Looking for a quicker weeknight meal? Why not try one of these keto dinners ready in 15 minutes or less!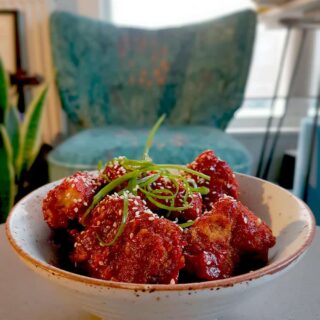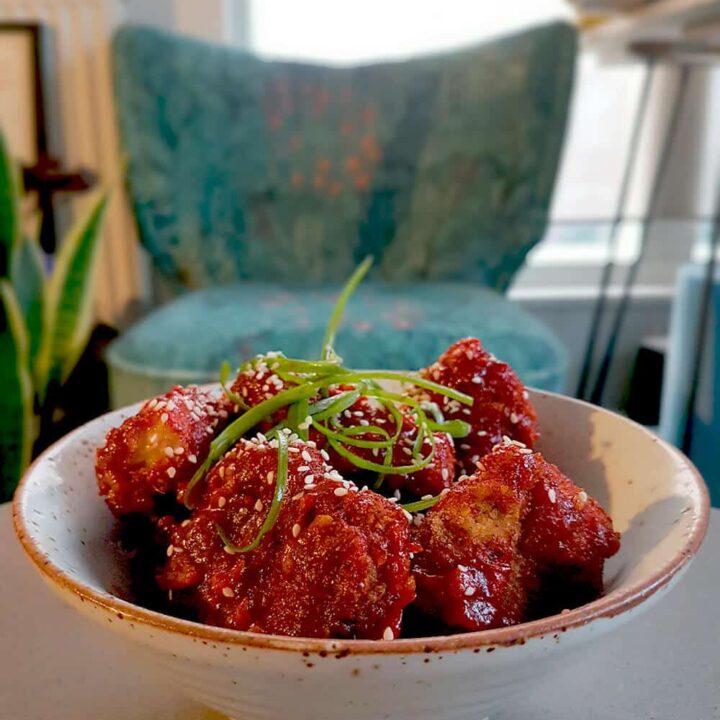 Keto Korean Fried Chicken
Low-Carb Korean Style Fried Chicken
Ingredients
4

Chicken Thigh Fillets

bones and skin removed

1

cup

Almond Flour

1

large egg

lightly whisked

5

oz

pork rinds

crushed

2

tbsp

Gochujang Chili Paste

1

tsp

granulated sweetener

2

cloves

Garlic

crushed

1

inch

Ginger

grated

1

tbsp

roasted sesame oil

4

tbsp

rice wine vinegar

oil

for deep frying

sesame seeds

1

spring onion

thinly sliced lengthways
Instructions
For the sauce
In a pan heat the sesame oil, and fry the garlic and ginger for 2-3 minutes until softened

Add the Gochujang and rice vinegar to the pan and bring to boil, then add the sweetener and remove from the heat. 
For the fried chicken
Carefully heat oil in a deep sided pot (fill no more than halfway up) to 300°F (150°C)

Arrange three bowls in a production line, one with the almond flour, one with the eggs and one with the pork rinds

Cut the chicken thighs into 2 or 3 slices each. Now take each slice and first 'dredge' in the flour, pressing the chicken into the flour to cat all surfaces

Next place the dredged chicken into the eggs (note: I recommend using chopsticks or a fork to do this breading process, otherwise you end up breading your fingers too and things get messy, fast!)

Finally coat the egg dipped chicken in the pork rind 'breadcrumbs' until well covered. Repeat for all the chicken pieces 

Fry the chicken in the oil at 300°F for around 12 minutes. (Depending on the size of pot it may be best to do this in 2 batches, to avoid overfilling the pot which can cause the oil to bubble over). Place the fried chicken onto some kitchen paper to drain the oil, as you fry any additional batches.

Once all batches have had their first fry, increase the temperature of the oil to 360°F (180°C) keeping a close eye on the temperature (do not let the oil start smoking!) Re-fry the chicken for a further 5 minutes at this temperature until brown and crispy.

Drain the chicken on kitchen paper again, and then toss/combine with the chilli sauce.

Garnish with sesame seeds, shredded spring onion, and enjoy!
Notes
Macros per serving (2 thighs)
Protein: 49g
Fats: 43g
Net Carbs: 8g
Nutrition
Serving:
1
grams
Calories:
620
kcal
Do you eat keto? Leave a comment below if you've tried this recipe!